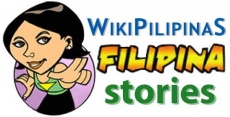 This is a revised version of the press release for media outlets outside the Philippines that I had sent out on February 29, 2008.
Calling all Filipina bloggers worldwide! Join FilipinaImages.com's collaborative project with wikiPilipinas.org, the "Filipina Stories" Writing Contest, to celebrate Women's History Month.



FOR IMMEDIATE RELEASE
TITLE: IF YOU CAN E-MAIL, YOU CAN WIKI
SUB-TITLE: About wikiPilipinas.org, a human-edited encyclopedia about Filipinos worldwide
PRESS CONTACT:
Lorna Dietz
Co-Founder, FilipinaImages.com
[email protected]
Skype phone: 415 508-5326 or lornadietz
For ID purposes only: Member, "Shape the Filipina Image Campaign" Committee of Filipina Women's Network (FFWN.org)
TEXT FOR PRESS RELEASE (FOR MEDIA OUTLETS OUTSIDE THE PHILIPPINES):
Gus Vibal of Vibal Publishing House, a respected name in the Philippines' educational book business industry, is tenacious and unstoppable in his efforts to get the word out about "the joys of the wiki" for Filipinos and about Filipinos. Vibal's substantial investment in wikiPilipinas.org, the hip 'n free Philippine Encyclopedia, is accomplishing major milestones by attracting partnering organizations to collaborate with writing projects. Wiki writers can now take advantage of the opportunities to promote literacy and history in the following languages: English, Filipino, Cebuano, Waray, Ilokano, Bicol, and Kapampangan. Those who are familiar with Wikipedia's platform will find wikiPilipinas's format familiar territory.
A month-long program of activities has been organized to celebrate March as Women's History Month in the Philippines. According to WikiPilipinas.org, a special portal called the "Encyclopedia of Philippine Women" will be launched during March 2008, compiling and detailing the achievements and triumphs of Filipinas everywhere. Vibal announced that "Filipiniana.net will also host a Philippine Women Microsite containing selected scholarly texts, research documents and abstracts, as well as selected literary works from Filipina writers."
Philippine-based bloggers are also providing an online community presence for the March activities through FilipinaImages.com, an advocacy portal and news site that promotes an empowering "Reshaping the Filipina Image Online" campaign. Co-founders Noemi Lardizabal Dado, Dine Racoma, and Lorna Lardizabal Dietz collaborated with wikiPilipinas.org in launching a writing contest, "Filipina Stories," for bloggers. Details about the writing contest are found at the main page of wikiPilipinas.org or FilipinaImages.com. The deadline for entries is March 15, 2008.