The first time I met Barry Picazo of Intramuros Restaurant, it was through Anthony Cruz Legarda of "Arkiteknik" fame who insisted on introducing both of us. Barry, a young retired financial wizard (at least, that's what I thought of him) decided that his love for Filipino fusion cuisine was luring him to unexpected places, such as a Financial District "food court" on Third Street (about 25 steps away from Market Street) in San Francisco, California. His foodie experiment at that time was called "Mango Bay Cuisine."
A few years later, Barry went on to help launch Patio Filipino Restaurant in San Bruno, California. It is well-known for its cozy ambience and Filipino-Spanish cuisine in a patio-like setting.
Then again, another restaurant concept that took advantage of multiple rooms and exponentially, more function room space, convinced this intrepid entrepreneur to take another leap of faith. Thus, a fine dining concept with banquet facilities named "Intramuros Restaurant" was born in South San Francisco, California.
I thought that Barry was quite innovative in using his social media techniques when it came to promoting Intramuros Restaurant. He would make me salivate with his short video clips on his Facebook wall about the lunch buffet specials, happy hour menus (It's super-valued that I called them dinner menus!), Crab Feasts, Karaoke Nights, and lots of entertainment — from the classic to pop culture.
One of my friends once told me that Intramuros Restaurant is this decade's version of the defunct Tito Rey's Restaurant or the Mabuhay Gardens, where Filipinos and Filipino-friendly gourmands would gather to eat and make merry… and yes, especially to see who among their friends would drop in.
It's all worth it, Barry! The late hours, the juggling of schedules, and aligning common purpose and vision with your business partners. I am so proud of your growth as a restaurateur (this is the foodie speaking!) because you have succeeded in making the Intramuros Restaurant an elegant "five-senses" delight that makes me proud to bring in my family and friends. I feel as if I've been a part of your growth… Yes, I still have some recipes to share but that will come during one of my visits (that is, if you can spare the time to foodie-chat).

Keep the Filipino cuisine coming! My cousin, Marisa Abad, was so happy that we took the time to enjoy your dining room (leisurely!) that she brought her friends there to celebrate someone's 80th birthday party. Another classmate, Cynthia Bernaldez Gaabucayan, also brought her family there. So many friends are flocking to your sacred space in Filipino cuisine. Wait till I take my momblogger sister (aka a very popular food blogger in the Philippines with two blogs, Pinoy Food Blog and Food Photo Blog) to enjoy your exquisite culinary delights. I'm not saying anything to her. We'll just go unannounced — and I will just have to see what my food blogger-sister has to say about the Intramuros Restaurant.
I'll be coming back to this blog posting so I can update it.
Let's ring in the TRIPLE 10 Celebration — on October 10, 2010 — or 10-10-10 — when Barry Picazo invites us to celebrate in style — where else? — at the Intramuros Restaurant in the San Francisco Bay Area. Bon appetit!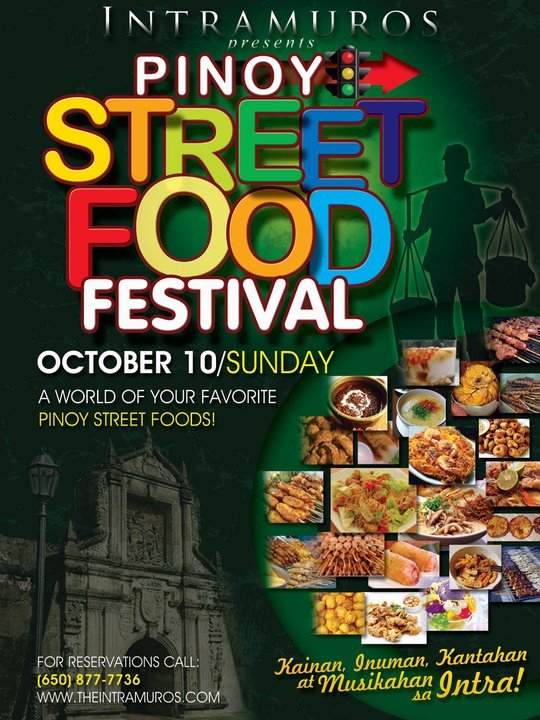 I'm also including one of your Crab Fest posters as a souvenir in my blog.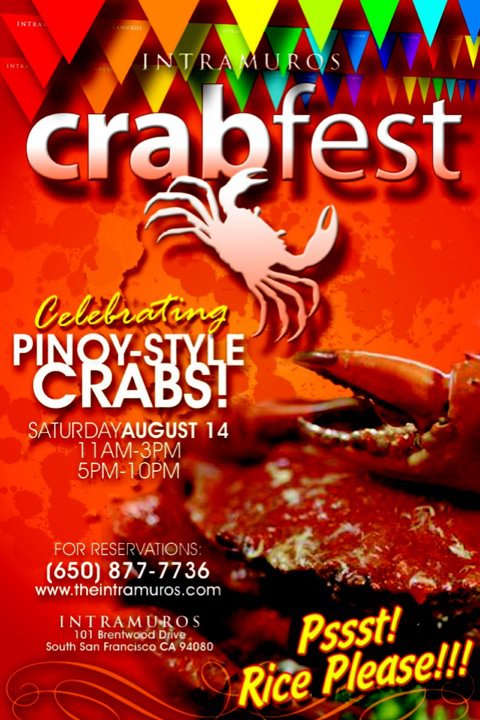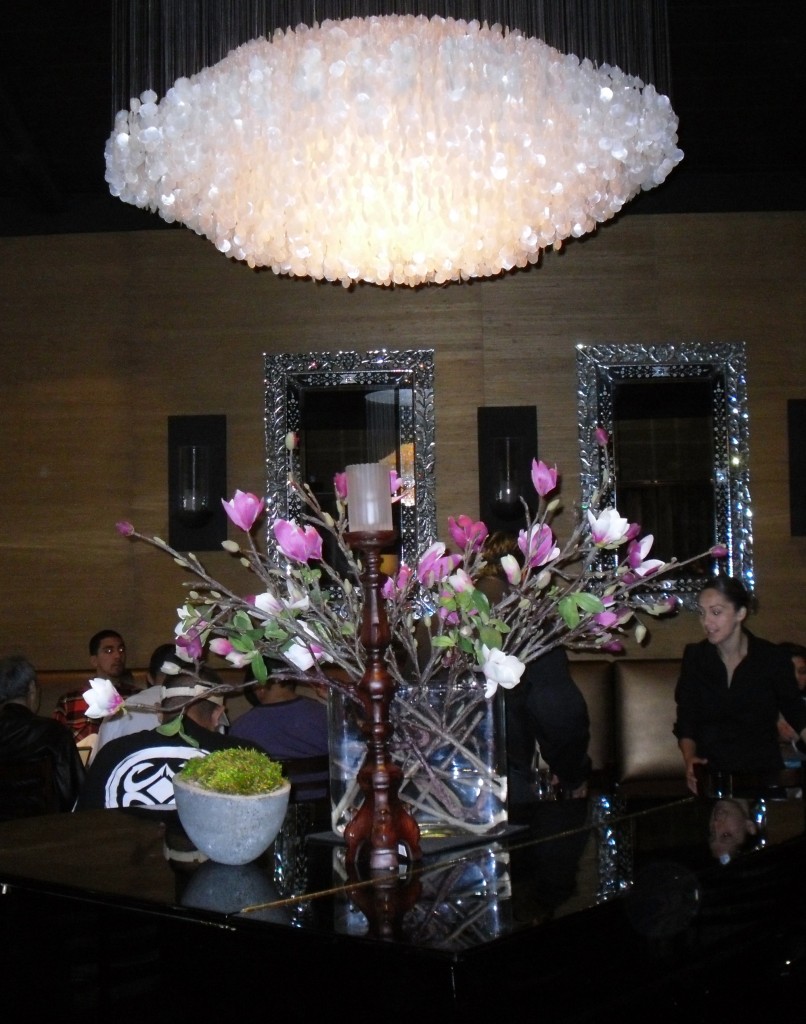 For those of you who want to know how to cook Intramuros Restaurant's Crispy Binagoongan over Grilled Eggplant, click here for the recipe.
Here's Christina Dunham from Filipinas Magazine Online with Barry Picazo in an episode from the Filipinas Magazine Show on GMA Pinoy TV.
"To sue or not to sue PG&E?" This is my community service announcement for Sept. 13, 2010.
This morning, I woke up with an "Aha!" moment: MOHINDER MANN. I know that in the case of the San Bruno explosion, victims and displaced families would be looking for advice and referrals re: good personal injury attorneys. I know someone really well: Mohinder Mann of http://themannlawfirm.com/ in San Jose, CA. (Yes, this is definitely my testimonial about someone whose work and achievements I believe in — and you don't have to live in San Jose to check him out.)
On Sunday, Sept. 12, I had an opportunity to reconnect with Mohinder Mann, the chair of our South Bay multi-ethnic coalition, when his daughter led our team (through the ALS South Bay Walk; see http://bit.ly/9cV5Ev) in raising funds for The ALS Association. Mohinder Mann's wife, Robin, suffers from ALS (Lou Gehrig's Disease). I have personally volunteered with this amazing social justice advocate (aside from his work in other community causes such as the fight to keep JTS Northside Community Center under the Filipino leadership that built it) that Mohinder's colleagues have honored him with very special awards and recognitions in the past many years.
Do you remember the Toyota auto recall case?
"February 9, 2010 – The Mann Law Firm was one of the first law firms in the country to sue Toyota for the sudden acceleration of one of its vehicles in 2007, which ended up killing Mr. Troy Johnson. More than two years ago, federal investigators in the United States discovered that some Toyota vehicles accelerated unexpectedly, the Washington Post reports… In October 2009, Toyota announced that it was recalling approximately 3.8 million Toyota and Lexus autos because their floor mats could trap the gas pedal, causing sudden acceleration. Then in January 2010, Toyota advised the NHTSA that approximately 2.3 million vehicles in the United States have a defect that can cause the accelerator to stick."
Please call 408-287-1600 for free advice and ask for Mohinder if you have a friend who needs good, solid advice. Or email Mohinder directly at [email protected] Or fill out the form at the website.
You might be asking me why I am referring my friend, Mohinder Mann. How do you say "thank you" to someone who tirelessly volunteered and helped my Filipino American community stand up for its rights after being unjustly treated? By sharing with other people that you know someone who will fight for their rights — after astute due diligence, of course.
GETTING TO KNOW MOHINDER MANN