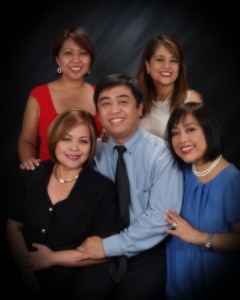 Keep checking this page for updates to my Portfolio. This is where I showcase some of my memorable creative works. I worked on some of these produced videos with my family or friends.
If you think I'm the person who can help you find your voice and develop your message — for you, your business or your organization, please contact me at [email protected]
My eternal gratitude to Maya Walker for "showing me the way, by example" in Facebook.

While I was busy co-organizing the E-2010: 9th NaFFAA Empowerment Conference, my siblings and I made a special trip to Hercules, CA where our sister, Myrna de Vera, was running for one of two Councilmember slots. We took the time to have a family reunion and went to the Sears Studio in Concord, CA for our once-every-decade (or less) photos. This time, we had our baby brother with us (our only surviving brother). Featuring: Lorna Dietz, Noemi Dado, Myrna de Vera, Belen Dofitas, and David Lardizabal.

A Video Documentary of a Political Campaign: My sister, Myrna de Vera, will become the City's Mayor in 2014 (thereabouts). I wish her well during her stint as Councilmember in 2011.

When the Canadian model, Andrew Philip, asked me to be his Facebook friend, I thought that the photo on his profile page was a fake. Yet, I did some research and found out that he had been modelling since he was 17 years old. Thus, a beautiful online friendship was formed among us: Michael Davantes (his manager), Andrew, and I.
It was my second attempt at creating a video portfolio that got both men's approval. Here it is.

Giannino Ricci, a professional model and actor since he was about eight years old, is one young friend whose "star" I'm looking at.

Promoting conventions and conferences through video invitations is still a relatively young technological strategy. Here are a couple I created.
The E-2010: 9th NaFFAA Empowerment Conference
The FPACC Bi-National Annual Convention

Robin Mann & ALS South Bay Walk: This is one of the most challenging video invitations for a fundraiser I have ever done. I cried when I saw the resulting video. Mohinder Mann, one of my BFF's and Robin's husband, and I worked on this video, with input from Congresswoman Zoe Lofgren and Robin Mann herself. I also attended the ALS South Bay Walk — and they raised a ton of money for ALS research. Robin rocks!

A social media video announcement I created for GMA Pinoy TV about a special TV interview during President Benigno Aquino III's visit to San Francisco, CA on September 25-26, 2010.

How to promote an auction and opportunity drawing by using a video slideshow. This is the one I created for PhilDev USA (formerly known as Ayala Foundation USA) for their event on September 25, 2010. GMA Pinoy TV and GMA Life TV were the exclusive TV media sponsors.

A Books for the Barrios fundraiser.

Our "Happy Birthday!" greeting to Greg Macabenta.

2010 San Jose Punjabi Mela on June 19, 2010

David Loh, Fruit and Vegetable Artist (UK)


All About Babae Ka Party List, Philippine Elections (May 2010)
Check out the posting I wrote at FilipinaImages.com about Babae Ka.

Gene Alcantara, Standing for Member of Parliament, House of Commons, for Hampstead & Kilburn, London, UK (May 2010 Elections)

Dance for A Cause with Cheryl Burke on December 20, 2009

Honoring the Filipina Women's Network "100 Most Influential Filipina Women" for 2009


Re-Elect District Attorney Dolores Carr Fall Kick-Off Fundraiser (October 2009)


Fundraiser: UPAA-NY on 5th Avenue, An Evening of Fashion (July 15, 2009)

Tom M. Stern's Art Exhibit & Reception on July 2, 2009

Fundraiser on July 1, 2009 – "Harana Sa Intramuros" Concert & Dinner At Intramuros Restaurant

NaFFAA Region 8: Scenes from a Solidarity Rally in San Francisco (June 30, 2009)

My first video slide show: "A Squirrel Becomes a Trapeze Artist"