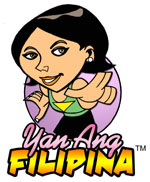 On July 21, 2007, during my first day at WordCamp for WordPress users, I spoke up and told my fellow conference attendees about the google bombing campaign my sister, Noemi Dado, and her friends were undertaking to take back the word Filipina online from its massive "dating and penpal websites" and put this word in a more balanced context. The loud applause caught me off-guard. The bloggers liked what they heard! A couple of bloggers came forward and chatted with me about taking back the word "Jew" online. A few other bloggers networked with me because they wanted to meet more Filipino bloggers.
This talk about "google bombing" the word "Filipina" started with a yahoo messenger chat I had with Noemi last June 26, 2007. She was asking my opinion about her blogger-friend, Dine Racoma, who described herself as "Sexy Mom, a Filipina freelance writer, researcher, problogger, and new media adviser." Dine had posted "Whaaaat? Sexy Mom a Disgrace to Filipino Women? Seems Like an Attack to Bloggers per se."
The result of our chat and Noemi's other conversations and research was Noemi's blog entry on June 27: How To Reshape The Sexy Filipina Image (Filipino Woman). I recommend that you read Noemi's suggestions and implement your own google bombing campaign.
I've decided to adopt the "Yan Ang Filipina" logo that was created and lovingly donated by Jonas Diego. I hope more Filipinos and Filipinas will adopt this logo in their google bombing campaigns as well as on their blogs. We have the power to shape the future of The Filipina Woman's Image Online.
I'd love to hear your views.