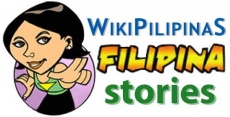 This is a revised version of the press release for media outlets outside the Philippines that I had sent out on February 29, 2008.
Calling all Filipina bloggers worldwide! Join FilipinaImages.com's collaborative project with wikiPilipinas.org, the "Filipina Stories" Writing Contest, to celebrate Women's History Month.
🙂 😀 🙂
FOR IMMEDIATE RELEASE
TITLE: IF YOU CAN E-MAIL, YOU CAN WIKI
SUB-TITLE: About wikiPilipinas.org, a human-edited encyclopedia about Filipinos worldwide
PRESS CONTACT:
Lorna Dietz
Co-Founder, FilipinaImages.com
[email protected]
Skype phone: 415 508-5326 or lornadietz
For ID purposes only: Member, "Shape the Filipina Image Campaign" Committee of Filipina Women's Network (FFWN.org)
TEXT FOR PRESS RELEASE (FOR MEDIA OUTLETS OUTSIDE THE PHILIPPINES):
Gus Vibal of Vibal Publishing House, a respected name in the Philippines' educational book business industry, is tenacious and unstoppable in his efforts to get the word out about "the joys of the wiki" for Filipinos and about Filipinos. Vibal's substantial investment in wikiPilipinas.org, the hip 'n free Philippine Encyclopedia, is accomplishing major milestones by attracting partnering organizations to collaborate with writing projects. Wiki writers can now take advantage of the opportunities to promote literacy and history in the following languages: English, Filipino, Cebuano, Waray, Ilokano, Bicol, and Kapampangan. Those who are familiar with Wikipedia's platform will find wikiPilipinas's format familiar territory.
A month-long program of activities has been organized to celebrate March as Women's History Month in the Philippines. According to WikiPilipinas.org, a special portal called the "Encyclopedia of Philippine Women" will be launched during March 2008, compiling and detailing the achievements and triumphs of Filipinas everywhere. Vibal announced that "Filipiniana.net will also host a Philippine Women Microsite containing selected scholarly texts, research documents and abstracts, as well as selected literary works from Filipina writers."
Philippine-based bloggers are also providing an online community presence for the March activities through FilipinaImages.com, an advocacy portal and news site that promotes an empowering "Reshaping the Filipina Image Online" campaign. Co-founders Noemi Lardizabal Dado, Dine Racoma, and Lorna Lardizabal Dietz collaborated with wikiPilipinas.org in launching a writing contest, "Filipina Stories," for bloggers. Details about the writing contest are found at the main page of wikiPilipinas.org or FilipinaImages.com. The deadline for entries is March 15, 2008.
For bloggers and non-bloggers alike, a wiki project can be the next best thing to publishing and showcasing the stories of Filipinos worldwide without burdening financial resources. Media organizations, researchers, industry leaders and experts, community activists, and people from all walks of life are given an equal opportunity to interactively collaborate in writing and editing an ongoing documentation and history about the Filipinos' evolution and progress worldwide — as it happens.
For more information about how to get involved in a wiki project for your organization, contact any of the following: Noemi Dado (AboutMyRecovery.com) at [email protected], Dine Racoma (DineRacoma.com.ph) at [email protected], or Lorna Dietz (RadiantView.com) at [email protected].
wikiPilipinas.org's schedule for Women's History Month is subject to changes without any notice. Please check the website for updates and revisions.
WikiPilipinas.org and Filipiniana.net Events for Women's History Month
March 3 (Monday) 9:30 am – 11:30 am
Venue: Manila Hotel
Event: Helena Benitez Global Forum on Women, Power and Sustainable Development
(Sponsored by Ugnayan ng Kababaihan sa Pilipinas & AWNGAD)
Attendees: Local women leaders from different local government units nationwide
Tentative Program
9:30–9:40 am: Introduction; Viewing of wikiPilipinas.org and Filipiniana.org videos
9:40-10:10 am: Women, Leadership and the Internet – Tin Mandigma (Read or Die Philippines)
10:10-10:25 am: Using Technology in Uplifting the Image of the Filipina – FilipinaImages.com
10:25 – 11:00 am: Ceremonial Unveiling of Two Women Portals; An overview of WikiPilipinas.org & Filipiniana.net
11:00-11:30 am: Question & Answer session; hands-on session
March 8 (Saturday) 8:30am – 12:00nn
Venue: UP Theater
Event: National Women's Day Celebration (headed by NCRFW)
20 minutes presentation: An overview of wikiPilipinas.org & Filipiniana.net; A Call for more entries to the Filipina Writing Contest
Attendees: 2000 students, NGOs
March 11 (Tuesday)
Event: UP Centennial Lecture of Dr. Carol Sobritchea
An overview of wikiPilipinas.org & Filipiniana.net; A Call for more entries to the Filipina Writing Contest
March 13 (Thursday)
Venue: Batangas Provincial Capitol, Batangas City
Event: A short message from Vibal Foundation announcing its Women Portal Projects and the partnership with NCRFW to local women leaders and government officials
March 24 – March 26 (Monday to Wednesday)
Venue: Miriam College
Event: Women's Studies International Conference
An overview of wikiPilipinas.org & Filipiniana.net; Filipiniana.net will sponsor one lecture for its (Filipiniana.net Lecture Series) featuring Dr. Carol Sobritchea, the director of the UP Center for Women's Studies; Announcement of Filipina Writing Stories winners
# # #
Notes for media outlets: Please e-mail Noemi Dado at [email protected] if you need a jpeg image of the wikiPilipinas.org Filipina Stories' logo and some photos. Thank you.