LAST CALL FOR TRAVEL BOOKINGS IS ON FRIDAY, MARCH 14! Go to www.PartyInManila.com.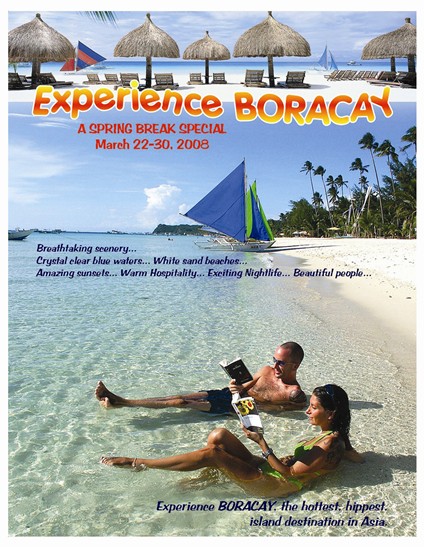 😀 If I wasn't inundated with Spring projects back-to-back, I would be partying in Manila, Cebu, and Boracay. Francesca Regala, at the Cultural Section of the Philippine Consulate General's Office in San Francisco, is busy helping organize this trip that's been packaged by Mango Tours. Oh, to be wild and free, forever young Filipina professional that I am. Well, the best that I can do is send the word out that there's something here for everyone (and vicariously enjoy their experiences)… For those of you who want to know what the partying could be like, go to my YouTube video collection here. You have to scroll down for the Wild on E! adventures in Boracay and other places in the Philippines. For Filipino Americans who want to know more about their roots (while partying!), this is a wonderful travel group to be with!
Go to www.PartyInManila.com for the tour packages. Information can also be found at FlyToBoracay.com.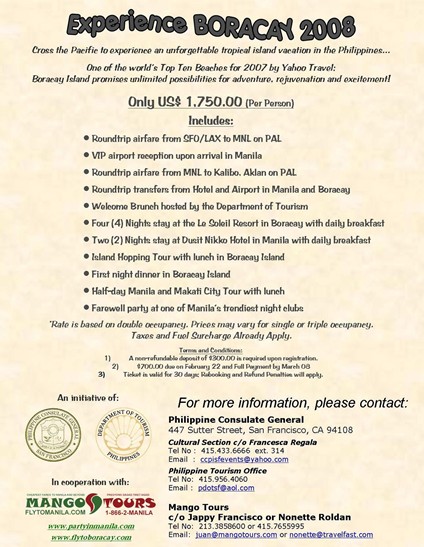 Here's some contact information for you:
Jappy Francisco
Marketing Director
Mango Tours, Inc.
www.PartyInManila.com
[email protected]
(866) 262-6452 extension 1404
Francesca Regala
Cultural, Community Relations and Public Information (CCPI) Section
Philippine Consulate General, San Francisco
447 Sutter Street, 6th Floor,
San Francisco, CA 94108 USA
Tel. No.: (415) 433-6666 ext. 314
Fax No.: (415) 421-2641
Email: [email protected]
Website: http://www.philippineconsulate-sf.org
SOMETHING TO THINK ABOUT:
If you want to put together a tour package of your own to the Philippines — and within Asia — please let me know. It could be your own Spring Break special, an incentive travel trip, a reunion, a meeting, or a conference. I'll hook you up with the professionals. Who knows, you will also get me as the tour coordinator. Well, if you do get me (no humbug or arrogance here!), you're in for some wholesome (yes, family-type wholesome!), holistic, pretty wild, and tame adventures in travel.
.