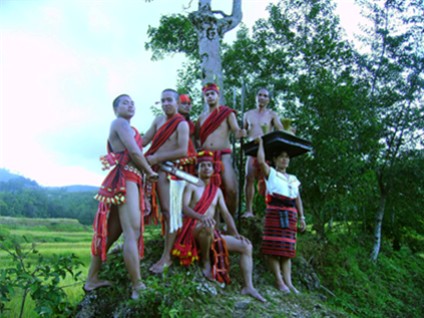 August 17, 2007
This morning, I was delighted to receive an e-mail from the luminous Filipina dance theater artist, Alleluia Panis, Artistic Director of Kularts, a presenting multi-arts organization in the Filipino American community. Although Anthony Cruz Legarda, the visionary of the ARKITEKNIK fusion-fashion and lifestyle movement, had waxed poetic about his enlightening interactions and friendship with Alleluia, it wasn't until June of 2005 when I actually met the internationally-known artist and cultural activist. Alleluia talked about bringing in an Ifugao group later that year — and she needed the Filipino community's support since it would be the first time that the Ifugaos would be visiting the San Francisco Bay Area in an official, artistic, and cultural ambassadorial capacity.
Two years later, the Ifugaos of the Philippines are finally making their way to the San Francisco Bay Area — and in a very big way!
Kularts, as of press time, is open to collaborations with organizations that can bring the Ifugao group to other parts of the Bay Area, such as the South Bay, for instance. Please contact Alleluia at (415)-239-0249 or e-mail her at [email protected].
Let's support this amazing performing group that comes straight from the rice terraces of Banaue this September and October of 2007.
From www.kularts.org, "the nation's premiere presenter of contemporary and tribal Pilipino art"
KULARTS presents 2007 US TOUR
THE IFUGAO MUSIC & DANCE ENSEMBLE OF BANAUE
474 Faxon Ave SFCA 94112. www.kularst.org 415.239.0249
Kularts sponsors a month-long residency of Philippine master artists to create meaningful and engaging exchanges with major arts and educational institutions, and community-based communities. The project impacts California tremendously, where there are over one million American-Pilipinos and Philippine immigrants live, the highest concentration of Pilipinos outside of the Philippines.
Residency activities include: performances at professional venues, workshops & classes in schools and community settings, lecture-demonstrations, jam sessions, and community interactions & dialogues. Artists are billeted in the homes of local Pilipino families, which allows for the development of lasting friendships between American families and Pilipino artists. The residency also includes a Tribal Arts Installation which exhibits traditional textiles, crafts, and artifacts in the lobbies of different performance venues, transforming these spaces into interactive tribal market places, enabling the audience experience to begin as soon as they enter the theater. Trained docents are stationed at various locations to explain exhibit items.
In October 2007, Kularts will host the first-ever US visit by an indigenous Ifugao performing group, The Ifugao Music & Dance Ensemble of Banaue. The indigenous Ifugao people are the celebrated builders of the famed Banaue rice terraces located in the Cordillera Mountains of Northern Luzon, Philippines. Since ancient times, the Ifugao way of life – from its rituals and spiritual beliefs to its tribal laws – has revolved around the cultivation of rice. The seven virtuoso tribal artists, ages 24 to 62, invited to participate in the US tour, have committed themselves to the stewardship of the Ifugao people's dance, music, tribal arts, and indigenous cultural practices as a dynamic relevant part of contemporary life. The ensemble's rousing performance includes the himong, a powerful and communal trance-inducing dance, that calls for both the living and the dead to rise up for justice; the dancers' sweeping arms that emulate eagles in flight over the grand rice terraces; the infectious, interlocking rhythms of the gangha ensemble (3 flat gongs played either with a stick or the hands, and a drum called lib-bit); the playful competition of native games such as fighting spinning tops and wrestling; and the melismatic melodies of the alim and the hudhud, captures the beauty and power of Ifugao culture. Steeped in the Ifugao way of life, the members of the ensemble are not only rice farmers but also carvers, weavers, metal craft makers, and they are deeply informed in the spiritual beliefs, tribal governance, myths, and history of the tribe.
Timeline:
June-July 2007 – Finalize agreements w/ artists
– Process necessary documents for travel
August – Artists acquire travel visas and other legal documents.
– Kularts will finalize US partners: presenters, steering committee, host families, volunteers, venues
August-October – Promotion & Marketing Campaign: presentations at various community events including weaving/textile circles, Pilipino American events and other related communities
– Extensive mailing and e-mail campaign
– Ad campaign in ethnic and local publications
September- October: Master Artists California Tour
Members:
James Banayan Beyer, Jr. is a 25-year-old dancer and musician. He is also an expert in traditional games, and has participated in various local competitions. He is a traditional rattan weaver. He has performed at the Pascual Commercial Center and at Northwestern University in Laoag City.
Johnson Tayaban Binwag is a 27-year-old dancer and musician and an expert in Ifugao games. He has performed at the Imbayah Festival, the Pascual Commercial Center, and at Northwestern University in Laoag City.
Minifred Gavino is the project manager and will serve as production liaison between the Ifugao artists and Kularts. Her experience in art management, staging, tour and production, is essential to the smooth and successful facilitation of this tour. She was a member of the University of the Philippines' Kontemporaryong Gamelan Pilipino Music & Dance Ensemble. She toured all over the United States, Canada, Europe, and Asia. She worked with the Operation Brotherhood Montessori Center, Inc. in Manila was an assistant to the Chief Executive Ambassador Preciosa S. Soliven and choreographer for UNESCO supported projects.
Sheldon Pugong Grajo is a 26-year-old virtuoso gangha musician, singer, and dancer who is the grandson of Apo Pugong, one of the last living mumbaki (high priest or revered ritualist) of the Ifugao-Tuwali tribe. He has assisted his grandfather in rites and rituals since his boyhood. A well sought-after singer, he has performed with Hapiyo Mi Dance Troupe at the Pascual Commercial Center and Northwestern University in Laoag City. He is the artistic lead of the ensemble.
Hukita Dulnuan Licyag is a 61-year-old master artist in gangha music and dance with a mesmerizing and soul-stirring voice for both sacred and secular chants. A skilled metal craftsman, Mr. Licyag is a respected elder of his tribe for his spirituality and deep knowledge of the old ways of the Ifugao. He has performed at numerous festivals, at the Pascual Commercial Center, and at Northwestern University in Laoag City. He is the elder of the group.
Yolanda Tayaban Nagulman is a 46-year-old dancer, choreographer, and weaver. As a school teacher, she is dedicated to the preservation and study of indigenous tradition, including textile-making, myths & stories, and tribal laws. She teaches hudhud, an ancient secular chanting tradition of the Ifugao people. She has performed at the Hudhud Festival in Baguio, at various local festivals, at the Pascual Commercial Center, and at Northwestern University in Laoag City. She also directs her elementary students in traditional music and dance, performing at various local events and competitions.
Renato Binnay Patacsil is a 38-year-old dancer, musician and orator. He has performed at numerous events, including: Ifugao Foundation Day, the Imbayah Festival, Urp Ad Banaue, Pascual Commercial Center and at Northwestern University in Laoag City. His knowledge of Ifugao tradition is as practiced by the people of Bangaan. As a firm believer of self-rule and participation in governance, he is a dedicated public servant and has served two terms of public office as a councilman for the Province of Banaue. He is the spokesperson for the group.
2007 Sponsors/Partners:
Bernadette Sy, Executive Director – Filipino American Development Foundation
Deborah Clearwaters, Education Manager – Asian Art Museum
Denise Pate, Associate Director Operations- California College of the Arts
Indra Mungal, Community Program Manger – Oakland Museum
Jaime Jacinto- San Francisco State University
Joel Jacinto, Executive Director – SIPA, Los Angeles
Joel Tan, Community Engagement Director – Yerba Buena Center for the Arts
Linda Lucero, Director – Yerba Buena Gardens Festival
Lily Kharazzi, Program Manager – Alliance for California Traditional Arts
Leo Paz, PhD – City College of San Francisco
Lucy Burns, PhD – University of California, Los Angeles
History
Kularts (Kulintang Arts, Inc) founded in 1985, is a not-for-profit arts organization based in San Francisco, California. Kularts is the premiere presenter of Pilipino contemporary and tribal arts in the United States. Our mission is to inform and expand the understanding of American Pilipino culture and preserve the spirit and integrity of ancient Pilipino art forms. In 2002, we launched two significant programs to foster cross-cultural exchange: The Philippine Master Artist In Residency (PMAIR) sponsors a 4-6 week-long residency of Philippine master artists to create meaningful and engaging exchanges with major arts and academic institutions and the Pilipino American community; and The Philippine Tribal Tour a 2-4 week-long immersion tour of diverse indigenous communities of the Philippines designed for U.S.-based artists.
Fueled by several generations of Pilipino American students and scholars, who gained an appreciation for indigenous culture through Ethnic Studies programs and grassroots presentations of Pilipino culture, Pilipino Americans are hungry for excellent work from indigenous artists of the Philippines. Yet, mainstream U.S. institutions rarely present Philippine artists due to a lack of exposure, knowledge, and communication.
Kularts began its international project in 2000 with Kontragapi of the Univeristy of the Philippines. In February 2002, Kularts organized a month of Bay Area activities for Sining Kambayoka Ensemble (SKE) of Mindanao, a 14-member group noted for its combination of indigenous dance, theater, storytelling, and songs. In February 2003, Kularts sponsored the Helobung Cultural Troupe, T'boli artists of Lake S'bu, with a successful production of performances at Brava Theater Center in San Francisco; innovative UC Berkeley event with two indigenous tribes, the T'boli and the Pomo Native American; and in 2005 and 2006, the Magui Moro Master Artists of the Philippines. Through these projects, Kularts hopes to serve as the 'gateway' to tribal and contemporary Philippine arts, benefiting many diverse communities.
~0~0~0~0~0~0~
NO HOLDING BACK! KULARTS' FALL SEASON 2007
Cast away the SF summer fog with a fusion of Ifugao ancient spirit, comic wizardry, and electric hip-hop poetry. WE'RE ready to FALL into another whirlwind season. ARE YOU?
KULARTS PRESENTS TWO SHOWS YOU DON'T WANT TO MISS:
FLOW THE BUCK UP!
Fri-Sat, September 28 – 29, 2007
8pm, Zeum Theatre – 221 Fourth St. SFCA
BRINGING THEIR A-GAME TO THE STAGE! THIS IS WHY THEY'RE HOT!
Double Featuring TOUCHBLUE and ANTHEM SALGADO….
Yes, our favorite boy posse, Touchblue, is back! Touchblue shamelessly packs it thick to the brim with NEW sketch comedy, improv wizardry, and cunning wit. And if that wasn't enough, SF's very own Anthem Salgado in a special limited edition performance melding monologue, poetry, and hip-hop. The night will also be ice-blended with LIVE musical performances by local talents. Don't miss out on these two electric evenings of American Pilipino contemporary performance art at the Zeum Theatre.
For ticket information, please visit www.brownpapertickets.com
IFUGAO MUSIC & DANCE ENSEMBLE OF BANAUE
FOR THE FIRST TIME EVER!!! THE IFUGAOS IN THE BAY!
US Tour: September 24 – October 30, 2007
The Ifugao Music & Dance Ensemble of Banaue in CONCERT!
Sat – Sun, September 29 – 30, 2007 – 3PM
Zeum Theatre – 221 Fourth St. SFCA
Direct from the majestic Rice Terraces of Banaue! Kularts proudly brings to the US The Ifugao Music & Dance Ensemble of Banaue! Seven tribal artists from ages 24-62, will bring to us an unbelievably rich cultural experience of the tribal North. Feel the power of the Ifugao ancient spirit through gangha music, warrior dances, soul-stirring chants, infectious celebrations and everyday tribal life.
BE A PART OF THIS MONUMENTAL EXPERIENCE!
For ticket information, please visit www.brownpapertickets.com
Just Around the Corner….(and across the Ocean)
2007 PHILIPPINE TRIBAL TOUR !!!
December 17, 2007 – January 6, 2008
Mindanao and Ifugao Province
NOW ACCEPTING APPLICATIONS
APPLICATION DEADLINE SEPTEMBER 1, 2007
An intimate tailor fit, high definition experience of the Philippines! Kularts' Annual Philippine Tribal Tour – a hands-on, interactive cultural immersion for folks eager to explore indigenous Pilipino culture through direct and in depth exchange with community leaders, spiritual guides, and masters of a multitude of indigenous tribal art forms. For the first time, Tribal Tour will be visiting not only the island of Mindanao, but also the Ifugao Province in the Northern Luzon Cordillera Region. Applications for this year's tour can be found at www.kularts.org
THAT'S NOT ALL, FOLKS!
As if Kularts isn't already busting at the seams, here are more mind-widening Ifugao affairs to look forward to this Fall Season:
The Ifugao Music & Dance Ensemble of Banaue in Sac-Town!
Thursday, October 11, 2007 – 7:30PM
Union Ballroom
Sacramento State University
6000 J Street Sacramento, CA 95819
FREE!
For more info:(916) 278-6997
IFUGAO Music & Dance Workshops
Bayanihan Community Center
1010 Mission St. Suite B. SFCA
Get up-close and personal with our gifted Ifugao master artists in an exciting, hands-on series of music and dance workshops at the Bayanihan Community Center.
Workshop #1 Tuesday Oct 16, 2007 7-9PM
Workshop #2 Thursday Oct 18, 2007 7-9PM
Workshop #3 Saturday Oct 20, 2007 2-5PM
Workshop #4 Sunday Oct 21, 2007 2-5PM
The cost per workshop is $25 OR Sign up for the entire series for only $80!
To sign up for workshops, please visit www.kularts.org.
Interested in a deeper experience? Book a workshop, performance, lecture & demonstration for your organization or school, or host a dinner or outing!
Email [email protected] for workshops, performances, and booking information.