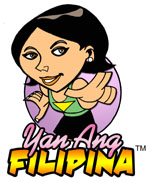 On July 21, 2007, during my first day at WordCamp for WordPress users, I spoke up and told my fellow conference attendees about the google bombing campaign my sister, Noemi Dado, and her friends were undertaking to take back the word Filipina online from its massive "dating and penpal websites" and put this word in a more balanced context. The loud applause caught me off-guard. The bloggers liked what they heard! A couple of bloggers came forward and chatted with me about taking back the word "Jew" online. A few other bloggers networked with me because they wanted to meet more Filipino bloggers.
This talk about "google bombing" the word "Filipina" started with a yahoo messenger chat I had with Noemi last June 26, 2007. She was asking my opinion about her blogger-friend, Dine Racoma, who described herself as "Sexy Mom, a Filipina freelance writer, researcher, problogger, and new media adviser." Dine had posted "Whaaaat? Sexy Mom a Disgrace to Filipino Women? Seems Like an Attack to Bloggers per se."
The result of our chat and Noemi's other conversations and research was Noemi's blog entry on June 27: How To Reshape The Sexy Filipina Image (Filipino Woman). I recommend that you read Noemi's suggestions and implement your own google bombing campaign.
I've decided to adopt the "Yan Ang Filipina" logo that was created and lovingly donated by Jonas Diego. I hope more Filipinos and Filipinas will adopt this logo in their google bombing campaigns as well as on their blogs. We have the power to shape the future of The Filipina Woman's Image Online.
I'd love to hear your views.
In the meantime, here is our sibling yahoo chat.
Noemi: hi lorns. question
Lorna: hey, just woke up
Noemi: is sexy not a nice word to use?
Lorna: Yes, it's a good word to use. For example…
Noemi: not?
Lorna: IT'S OK
Noemi: you said it 's not commonly used in the states
Lorna: Examples
Noemi: sabi mo hindi. when i said "sexy" to your american friend
Lorna: I said it's ok
Noemi: ah
Lorna: in what context?
Noemi: sexy mom
Lorna: how is it used?
Noemi: sexy mom as a pseudonym for a 50 year old mom
Lorna: I think I get it!
Noemi: is that a good nickname ba? my friend uses it kasi and she's getting bad comments
Lorna: There's too much political correctness here in the US to guard us against sexual harassment suits
Noemi: and?
Lorna: I must give you some examples where it is construed as appropriate
Noemi: in this case? sexy mom?
Lorna: If you are a marketer — and you are writing marketing copy that's boring, then we would say, "It's not sexy!"
Noemi: regarding moms?
Lorna: For sexy mom, here in the US, it would be construed as a sexist remark
Noemi: sexist?
Lorna: So, I would change it to FABULOUS MOM!
Noemi: ahh
Lorna: That's my opinion… since I'm reading into the professional and feminist ways of reading the word SEXY
Noemi: but she is known as that name
Lorna: sexy for me means "attractive," "enticing," "attention-getting."
Noemi: sexy mom? is that sexy?
Lorna: I think you attract too much controversy using "sexy mom" as if you are a sex object. I would prefer "Fabulous Mom." I have more explanations. In the workplace, we cannot compliment the person as a sex object. So, if we think a woman looks really good in an outfit, we say, "Hey, that suit looks wonderful on you" instead of saying, "You look sexy in that suit!"
Noemi: yes that is sexual harassment
Lorna: Get it!
Noemi: yup
Lorna: If I find a man attractive, I say, "Love your tie!" It looks great on you!" instead of saying, "You look F—-ing gorgeous enough to eat!" What you don't want to see happen is that the object of your comments replies, "I'm uncomfortable with your comments." The minute the person says that, he or she can complain to HR about sexual harassment. I know, this is a catch-22 situation.
Noemi: that's right
Lorna: So, you have to define if "sexy mom" is for the professional workplace or if "sexy mom" is to signify liberation from stereotypical images of mommies. Where are the comments? I can read them and give you my input.
Noemi: http://ba.racoma.com.ph/archives/a-disgrace-an-embarrassment-really-now/
Lorna: If you go to www.ffwn.org, Filipina Women's Network, you might gain some insight on how we want women to be perceived.
Noemi: ahh. I don't know what that anonymous writer wanted to write
Lorna: FWN is the organization I belong to — and myrna
Lorna: I understand both sides. Let me explain. At FWN, we google searched the word, "Filipina" and we found a gazillion sites on dating. So, during our future search summit last October 2006, we agreed to make sure that the Pinay image on the internet would come out with more "non-dating" entries when googling the word "Filipina" by increasing the FWN and FWN-related entries of Filipina itself. In other words, we increase the number of hits on the same word. I understand the blogger's idea. Use the same word, "sexy mom" which would probably have the highest number of hits eventually if more wholesome mothers carry the name "Sexy Mom" — and hopefully any google searchers will find more wholesome entries. The anonymous writer has good intentions but I think doesn't understand that fighting hackneyed perceptions about "sexy mom" means also fighting the women's cause by using the same weapons — that is, the same words. You can print my comments.
Noemi: yeah you're right. thanks for the insight
Lorna: "Shaping the "Filipina Image" is one of our causes at FWN — and I'm a member of the committee that seeks to find better ways to elevate the Filipina woman's image (note the intended redundancy, "Filipina Woman") and help them go to the next level of leadership in their chosen field of endeavor. You can print this also. Thus, there is a reason for my blog, "RadiantView.com," to exist.
Noemi: so it's good to link the keyword Filipina to the Filipina Women's Network
Lorna: RadiantView.com's existence is to help in the marketing, public relations, and events relating to the Filipino American community — and the diverse communities that I come in contact with. In the end, it's not about Filipinos — but about highlighting the dignity of the human spirit.
Noemi: buti naman. thanks for the advice
Lorna: So, the well-meaninged anonymous writer should remember that if there are more people using the word "Filipina, woman, Filipina woman, Filipina sexy woman, Filipina sexy mom," then the chances are — that if there are more enlightened women warriors who want to help reshape the Filipina woman's image by using the same words to capitalize on the goodness of the same words — then, whoever wins the google search war is the one with the most number of "wholesome content" hits. I may not be very clear but I hope you get my message.
Noemi: i get the point din
Lorna: You might want to read my blog entry on "vagina warrior" and let me give you a link to the Philippine News article — and my comments. This will help your blogger friend.
Noemi: sige
Lorna: Read this, and if appropriate, provide a link. People were averse to the word "puki" (same thing as "sexy mom")… "The Power of P (a review of Vagina Monologues/Usaping Puki)"
Noemi: thanks lorns
Lorna: Yes, anytime. We need more women warriors who can elevate the term "sexy mom" as a word of honor so that mommies can be honored as women who are not only mothers but honored as fabulous women — who are leaders in their own vocations (whether it be cooking, parenting, etc.)…
Noemi: ahh, good point. but u said avoid them as sex objects. di ba contradicting?
Lorna: The articles I wrote in my blog and the Philippine News commentaries will help you.
Lorna: I studied this for a long time — and since I'm a copywriter, it is my messaging that helps more women rise up to the challenge of reshaping people's perceptions about the Filipina Woman's image. The Filipina Woman is strong, sensitive, nurturing, and insightful. If more Filipinos use the redundant words, "Filipina Woman," there will be more wholesome entries. You can email Marily Mondejar, our president (an organizational development consultant, image consultant, and change consultant) at [email protected] for more of these questions. You can also ask her comments on the anonymous writer. Just say you are my sister. I'm known more as a "strategy consultant" among the women,
Noemi: wow nice inputs lorns
Lorna: Thank you. Now you know what I do. Help your friend out. Your perception is your reality. The comments I wrote in Philippine News lightened up the spirits of the Filipinas who were laughed upon for using the word "Puki" as a word of honor.
Noemi: hehehe
Lorna: Seize the power from these sleazy people and empower the Filipina mom by making sure that people know she is also a fabulous woman, a sexy mom! Redefine the word "sexy."
Noemi: yeah should be redefined
Lorna: Get a survey going on the word "sexy mom" and poll the answers. Then, put that on the internet. Use the same logic that we at Filipina Women's Network are using. Shape the Filipina Woman's Image.
Noemi: i was thinking of that
Lorna: That's what our organization is doing. We have over 2,000 women in our network. Marily is very good at using empowering words.
Noemi: dami ano
Lorna: Yup. Myrna is a member also. I convinced her, I guess. There was a comment from one person, though. She said that "we weren't feminist enough." I think we need to be a source of "common ground or shared truths." Not all women are feminists. We just need to be aware of our power and our rights.
Noemi: she likes it
Lorna: Who likes it?
Noemi: myrna. she told me
Lorna: Oh, good!
Lorna: "Shape the Filipina Woman's Image" is the name of our FWN campaign. We have a professional development core and a social justice campaign.
Lorna: What I said in my Philippine News commentary: "We like it when you speak out — for or against our FWN productions. It's all right. What you cannot stop is CHANGE. Change in the way Filipinas think and what they do about violence. It's all about perception. If you think the word "puki" is a slutty word, then so be it. For us, "Vagina" and "puki," spoken in all languages and dialects, remain "words of honor."
Lorna: The way I think is really the result of Nestor Perez's meditation practice work on me… Although I don't speak to him now, I am always grateful to him for the guidance.
Noemi: i like the insights. thank you.