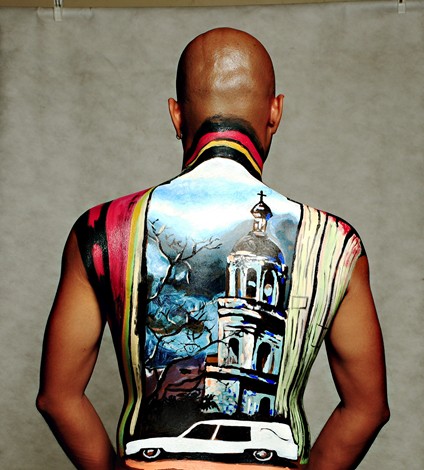 😀 😀 😀
Lemme guess! Yes, the adventurous friend who allowed himself to become a bare-backed blank canvas for some well-known artists, who just happen to be graduates of the Fine Arts program at the University of the Visayas – Cebu College, is someone you know, especially if you're from the Filipino American media scene. He's the "cover boy" of the March 2008 issue of BITE Magazine. And what a hunk of a bite my imagination came up with! With some investigative work, you can easily guess who this friend is. But I'm not telling y'all.
When "Mr. Cover Boy" (in the photo above) asked me to check out BITE Magazine, which is distributed for free in selected outlets in Cebu, I was immediately captivated by the boundaries that the publication's visionaries and artists chose to cross, trample, and what-have-you — so they could deliver very provocative messages, in-your-face.
The March 2008 cover cleverly depicts historic edifices amidst the urban traffic and strategically-situated clean and green surroundings. History and cosmopolitan chic embraced. Here's a comment that I found about the cover: "it isnt photoshopped like what youre thinkin. this portrait was hand painted by 3 live painters. it is a collage of heritage structures and cultural practices."
I checked out more of the "artistically-rendered" magazine covers of BITE. Many of them almost seemed to scream, "Bite me!"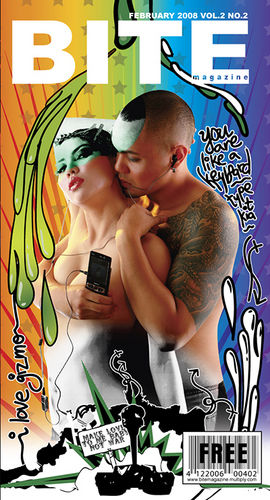 This is the February 2008 cover of BITE Magazine, the photo that I swiped from its Multiply site (sorry about this, BITE! I have to show my readers another sample of your creative work).
The cover seemed a little risque, even for art's sake. Yet, what message did I get from it? That the visionaries of this design and layout blatantly showcase Cebu's dominance in the cultural-fusion lifestyle, especially since many tourists and relocation transferees have lovingly stamped their cultural marks on Cebu's native cuisine, businesses, artistic choices, and destinations — post 1985.
MORE BITE.
BITE is a 36 to 44 page full-color FREE monthly magazine containing the month's events, gig guides, art scene info, promotional activities, etc., with special content features, a calendar, venue directory, and a photo chronicler of past events. The stylish graphic layout reflects the vibrant lives of its readers who want to be part of the goings-on in and around Cebu.

Today, BITE reaches markets as diverse as anime-crazed tweens, yuppies, working men and women, fashionista's, entrepreneurs, rock stars and many others who are eager and interested in the good life — the arts, culture, food, travel, shopping, music, gadgets and more.BITE has a strong readership of 45,000 every month. Distributed in places frequented by your target market — cafés, bars, leading hotels, universities, restaurants, call centers and airports. (quoted from their website)
🙂 🙂 🙂 🙂 🙂 BITE Magazine gets FIVE SMILEYS from me (one smiley meaning "definitely needs more work to impress me" and five smileys meaning "awesomely brilliant"). Go on, the BITE is right!