Kaya Mong Gawin TV Broadcast on GMA Pinoy TV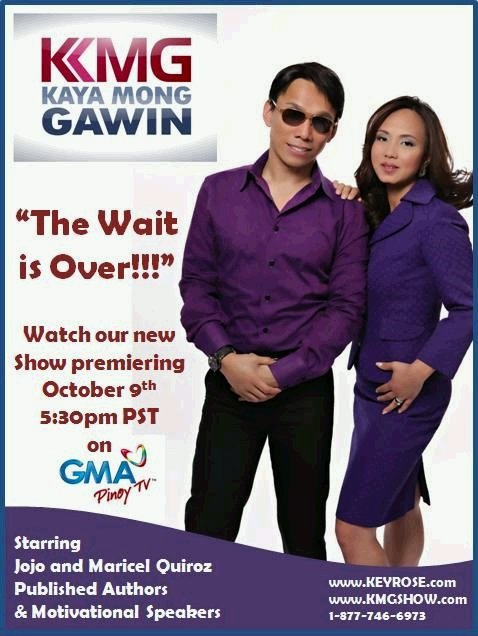 Kaya Mong Gawin [KMG] starts its first season this weekend on October 9, 2010 at
GMA Pinoy TV
. KMG connects its viewers with top-notch financial experts and motivational personalities who provide insight about the plethora of resources available to them that is not always so openly publicized. The hosts,
Jojo and Maricel Quiroz
have a vast background in the financial world, as well as being published authors and motivational speakers to Filipinos across the globe.
The goal of the show is to educate viewers and empower them to take the reins off their own personal financial lives. Myth and misconceptions are uncovered to lead the viewers to the light and to financial fitness.
The show is opened by a light-hearted skit called, "The Opisina," showcasing the interactions and mishaps of the "caricaturized" employees of Keyrose Corporation. The skit is intended to provide the audience a visual portrayal of the topics to be discussed during the episode and provide some fun comedic relief for viewers to enjoy.

____
To subscribe to GMA Pinoy TV and GMA Life TV, click here.
For the schedule of your favorite GMA Pinoy TV shows, click here.
For the schedule of your favorite GMA Life TV shows, click here.
Connect directly with your KAPUSO ABROAD on Facebook.