Here's a thought: If more people can walk for a cause, then it would be so easy to be healthy and wise! Physical fitness + fundraising + fun always benefit our Filipino American communities. The way my friend, Mohinder Mann, explained it to me during an ALS Walk I joined last month with his team: "The best part is that you get to meet old and new friends — and walk at your pace." Go ahead — and join the 2nd Annual Lakad Tulong in New Jersey this Sunday, October 17, 2010! Spread the word! (Exclusive TV Media Sponsor: GMA Pinoy TV)
Here is a slideshow from the 2009 Lakad Tulong that Grace Labaguis, one of the GMA Pinoy TV / GMA Life TV consultants, provided so we can look forward to the kind of fun we can expect. Thanks, Grace!
I can also see many of our NaFFAA Region 1 colleagues are actively engaged in this event. Thanks to Roger Alama, Cora Reyes, Elsa Olsen, and Nena Kaufman (among the many, many volunteers) for supporting this wonderful "walk for a cause."
FOR IMMEDIATE RELEASE
Inquiries, please contact:
Nelsie Parrado, Board President – 201.794.7321
Corazon Reyes, 2010 Lakad Tulong Coordinator – 646.789.6788
Mark Habana, Public Relations Officer – 201.841.5518
SECOND ANNUAL LAKAD TULONG EVENT
FEATURES FITNESS AND FUNDRAISING
LAKAD TULONG, the annual walkathon fundraiser coordinated by the Handang Tumulong Foundation, Inc. (HTFI), will be held on Sunday, October 17, 2010 in Jersey City. Marking the event's second consecutive year, the walkathon will feature fitness, while raising funds to build and maintain a disaster relief fund for victims of natural calamities in the Philippines. This year's theme is "Walk for health, Walk to Help."
In partnership with the Philippine Consulate General in New York (PCGNY), the foundation aims to surpass last year's fundraising result of $12,000. To achieve this increased success, members of all communities and ages are encouraged to get involved as walkers, donors, sponsors and volunteers. Those who make the biggest impact will be recognized for their efforts. Forms and additional information are available on the organization's website (see below).
"As a volunteer member of the organizing committee last year, what became evident to me was how a fundraiser like this bridges gaps and connects people of all ages, backgrounds and professions," commented Mark Habana, the public relations officer of the foundation. "These disasters struck close to our hearts and it was inspiring to see a community step up to address them in an empowering and fun way."
The walkathon program will validate the importance of health and fitness. A pre-walk warm-up session, coordinated by a licensed physical trainer, is planned. Following the three-mile walk will be dance segments featuring hip hop artists and "Dancing on the Square," which is open to all attendees.
This year's walkathon fundraiser will be held in Jersey City, NJ at 8:00 AM on Sunday, October 17, 2010. It is a 3-mile walk starting and ending at the City Hall of Jersey City at 280 Grove St.
All are welcome to support this initiative by raising funds, gathering pledges and participating in the walkathon as walkers or volunteers. Awards will be given to the organization that raises the most funds and the organization that brings the largest contingency of walkers. One individual will also be recognized for bringing in the most donations that day.
Registration is now open: $30 for adults, $10 for students with student IDs and seniors (age 70-80), free for seniors 80 years of age and older. Commemorative T-shirts will be available for the first 300 people that register on-site for the event. For sponsorship opportunities, please e-mail the foundation at [email protected]. See the attached flyer for more details and contact information.

This event is sponsored by GMA Pinoy TV and GMA Life TV, Phil-Am Trading, Phil-Am Foodmart, Casa Victoria and Drs. Greg and Emelie Ongcapin.
# # # # #
ABOUT HANDANG TUMULONG FOUNDATION, INC.
The Handang Tumulong Foundation is a not-for-profit organization whose primary purpose is to raise funds for the needy in the Philippines, the USA and elsewhere around the world, especially the victims of natural disasters and catastrophes. The Handang Tumulong Disaster Relief Fund is a readiness project for the victims of recurrent calamities in the Philippines. For more information, contact the foundation at [email protected] or visit the website at www.handangtumulong.org.
ABOUT THE PHILIPPINE CONSULATE GENERAL IN NEW YORK
The Philippine Consulate General in New York provides services and assistance to Filipino nationals residing in the states of Connecticut, Delaware, Maine, Massachusetts, New Hampshire, New Jersey, New York, Pennsylvania, Rhode Island, and Vermont. (www.pcgny.net)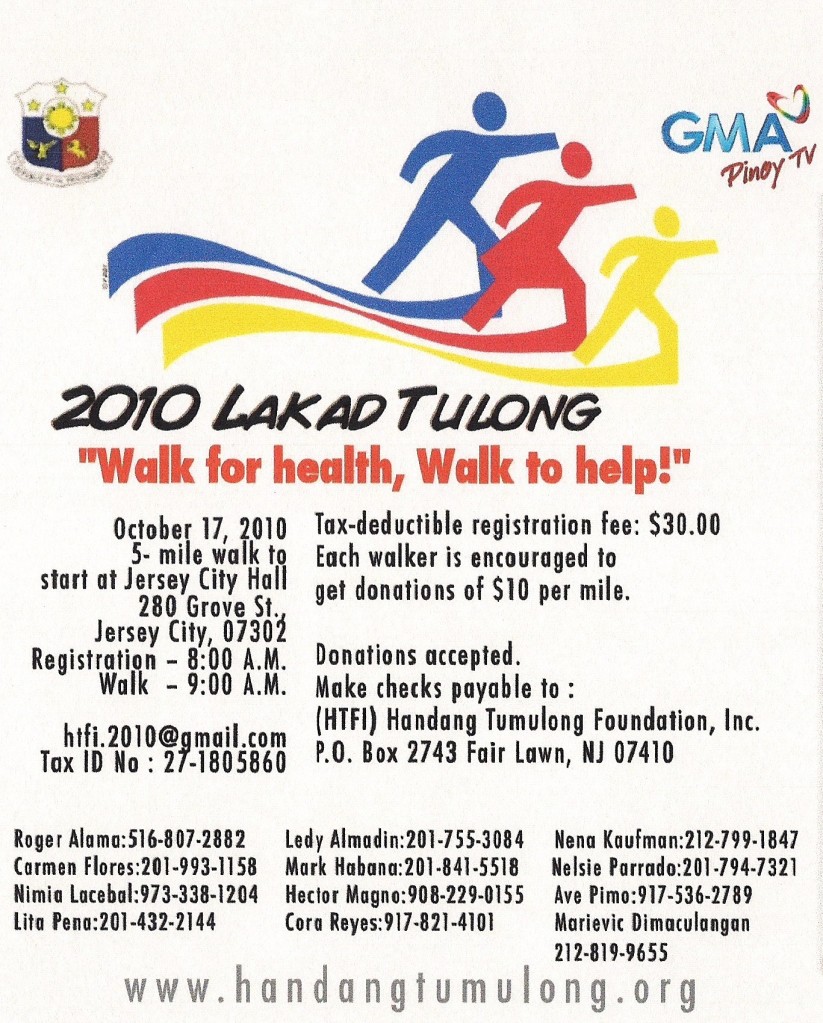 EXCLUSIVE MEDIA SPONSOR: GMA PINOY TV / GMA LIFE TV
"Proud to be Kapuso!"