I swear that my next trip to Manila will include a visit to some of the places that my sister, Noemi Dado, lists and reviews in her Food Photo Blog and Events Diary, Pinoy Food and Other Cuisine. Noemi, as a new media publisher, gets invited to some of the new product review events and restaurant openings that PR companies in the Philippines conduct regularly. As always, my sister discloses how she gets invited to such events. Being invited to an event doesn't mean that Noemi gushes superlatives about a product or a new dining venue.
This talented Filipina offers insightful analysis based on her technical as well as business knowledge and experience. After all, Noemi has a B.S. Food Technology degree from the University of the Philippines. Some people still remember that she had an exciting career at the Institute for Small Scale Industries . I clearly remember this because she sub-contracted my services to interview some small business owners in diverse industries in Cebu. Thus, I was able to get an innate understanding about how a foundry conducts business or how a fledgling dried mangoes business emerged as a market leader. Even our own family bakeshop's triumphs and woes became a case study for my sister at a national business publication.
Noemi and I are FOODIES, that is, we share a love of interesting, oftentimes off-the-beaten-path type of cuisine. What Noemi's blog offers to me is a current review of the trends happening in the Manila dining scene as well as the pop culture favorites of Filipino food consumers. I've noticed that her daughter, Lauren Dado, who is now taking her Masters in Creative Writing at the University of the Philippines, is an active contributor to this blog. Butch Dado, Noemi's "Warrior Lawyer" husband, also loves to cook. Marielle, my other niece, has definite opinions about where and what she eats. She reminds me of her mom (Noemi).
Here are some postings in Noemi's blog that I found which appealed to me.
Noemi talks about Milk Tea, which is a staple in Asian grocery stores here in the United States. I was first introduced to milk tea by my KabariNews.com's marketing director, Vonny Oei, a couple of years ago. How wonderful to see it being marketed as a coffee alternative in the Philippines!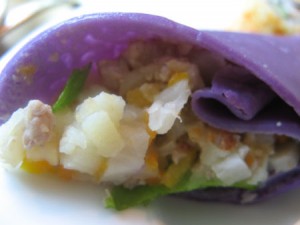 Her entry about Ube Wrapped Lumpia reminds me that there are many creative vegetarian dishes that can be included in a calorific, cholesterol-rich Filipino menu.
Although there is a Zagat Guide in the US for restaurant reviews and ratings, Noemi introduces us to the Miele Guide, Asia's Restaurant Guide.
Even my love for Hot Tsokolate or genuine Filipino hot chocolate doesn't escape Noemi's food diary.
Who says you have to make the 8-hour journey to Baguio to experience authentic Cordillera hot chocolate? If you're craving for Filipino hot chocolate, all you need to do is head over to this cozy little restaurant called Choco-late de Batirol in Serendra, Fort Bonifacio.
Noemi even takes us on a photographic journey with her as she evaluates Appetite Magazine and Greenbelt's grand launch of The Tasting Room.
Lauren's whimsical kitchen adventures at the Center for Culinary Arts in Manila keeps Noemi's Food Blog fresh, energizing, and let's-face-it! youthful.
I particularly enjoyed Noemi's account of her visit to The Farm at San Benito when she participated in a Nutrition Camp conducted by Nutrilite Vitamins and Minerals. You can take a peek at some of the tempting food she ate at her Photo Gallery and read her personal blog posting of "Health is Wealth at The Farm and Nutrilite."
Noemi's Family Photo Gallery makes it easy for me to keep track of the events she's been to.
If you want to stay in touch with the culinary delights in Manila, I recommend that you subscribe to Noemi's RSS feed or via email.
If you don't know what RSS means, here's a simple video that explains it all, courtesy of YouTube.com.