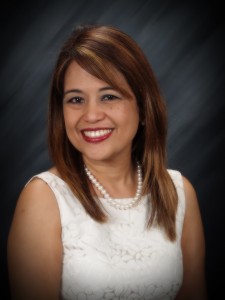 January 26, 2011
Today is my 25th anniversary of my arrival in the United States of America, having landed in "air-conditioned" San Francisco, California on January 26, 1985 — without any clue that I would be staying here. I flew in at that time to be my sister's official family representative during her wedding. Our father had an untimely massive stroke in October 1985 — and aside from a pregnant younger sister, Noemi, who couldn't travel, I was the only one who could fly to San Francisco at a moment's notice.
Today is also the day that I announced to some of my mentors the following message: http://bit.ly/eYEhqZ (details are found in this link)
My sister, Myrna de Vera, is officially Vice-Mayor of Hercules, CA, thanks to fellow councilmember John Delgado's nomination. Congratulations! Ang galing ng Pinay — and thank you to my special friends whose role as "villagers" in a "village raising a child" really helped out. Before you get too puzzled, those of you "who mentored me" know that I passed on many of your lessons, experiences, mistakes, and advice to my sister. From Alex E., Ben M., Rozita L., Yolanda S., Jose P., Loida N.L., Greg M., Mohinder M., Marily M., Jon M., Charito B., to Larry F. and other unmentioned villagers in the hundreds, thank you! Let's keep building "the next generation of community advocates in an intergenerational environment" in every community worldwide! See the fruits of your labors (put on your headsets for the livestream!) at http://naffaar8.com/technology-in-empowerment-e-2010-naffaa-9th-live-on-ustream-on-nov-20/

I don't know how the scheduling of mayorship works. Myrna, can you enlighten us with more information? If you are Vice-Mayor in 2011, then are you still scheduled to be Mayor in 2013 (one-year term)?

For those of you who are interested in Myrna's platform (yes, she built her own political campaign website using a Google website template), here is her website: http://citizensformyrnadevera.com/
December 14, 2010
7:00 p.m.
Tonight, my younger sister, Myrna Lardizabal de Vera, is officially sworn in as a Councilmember of the City of Hercules, California. My brother, David, and my sisters Noemi and Belen, and I won't be around BUT we are there in spirit. We spent time with Myrna, campaigning and experiencing the thrill of knowing that she was most likely going to make it.
Spending more than a month in the San Francisco Bay Area at that time was definitely worth it because we had our first-ever sibling reunion in the United States. Although I was very busy with my volunteer work as one of the core organizers of the E-2010: 9th NaFFAA Empowerment Conference, I brought all my work to my sister's dining table, quite stressed yet relieved that I was present and engaged in her campaign process. Yet, it was my two sisters based in the Philippines who stood with Myrna in the early mornings when they took to the streets and waved at all the commuters.
We may not always be together — but we did take the time to have our family photo taken at Sears Studio in Concord, then happily made our way to Seafood City to shop for my brother's Filipino groceries.
Of course, Adin Martin Villanueva, who handles Seafood City's Northern California events, and veteran politician (and our acknowledged Senior American Idol) Rudy Fernandez convinced Myrna to make a public service announcement about her candidacy.
Now that Myrna is officially going to be a Councilmember tonight, together with another Filipino American, John Delgado, I can now say that there are THREE Filipino Americans (out of five) Councilmembers in Hercules, California. Is this a record in American political history books — or what? Tonight is a celebration of sorts. Myrna is also the FIRST FILIPINA AMERICAN to become vice-mayor in 2013 and then, will be mayor in 2014. She told me that Hercules has a good history of electing Filipino mayors. Let see, is she going to be the 6th Filipino American mayor of Hercules in 2014?
When I had initially written Myrna's press release announcing her "feelers" about running for office in July 2010, I had also intentionally not mentioned other Filipinos running for office. Perhaps my own intuition guided me (o.k., I'm giving myself a pat in the back especially since I had known about the reality of the Filipino vote when my mentor, Ben Menor, had ran for Councilmember in the City of San Jose in the early 1990's but the Filipino vote was split with another dear friend; i.e. they both lost!).
Everyone ran on their own merit, thank goodness! John Delgado, 1/4th Filipino by ancestry, lives in Hercules and works in San Francisco. Ditto with my sister. They got to know each other very well during their individual campaigns. So, all's well that ends well. No negative Filipino split vote here. We learned, didn't we, Ben?
Myrna also had a hard-core, dedicated group of campaign volunteers. Her husband, Manuel de Vera, multi-tasked as the campaign manager. There are many people to thank BUT I think I'll let my sister do the honors. All I know is that all my friends who have been my worthy companions in our political empowerment activities these past many years have had a hand in helping Myrna reach "her place on the table."
We truly are like a "village that raised a child," my friends.
Here is the "thank you" video that my sister, Noemi, and I worked on (truly, I produced it while Noemi was the creative) that was shown to appreciative volunteers during the post-election party at Myrna's home on November 2, 2010. I remember the night so well because I had to prepare for the Giants victory parade the next morning, dragging my Manila-based sisters with me for — work-related stuff! (This really does happen in the life of a public relations consultant!)
I took some Flip videos during the street rallies (a tradition in Hercules, California). This is the first time I'm making them into a movie.
While I wait for the photos to arrive in my INBOX for my Filipino American press friends, I decided that I could, at the very least, share my unedited article that I had written for Zee Lifestyle a few months ago, while Myrna was still going through the graduation activities of her three sons. The final article was edited to fit the space requirements. Someone had taken the photo of Myrna from the magazine. Here it is.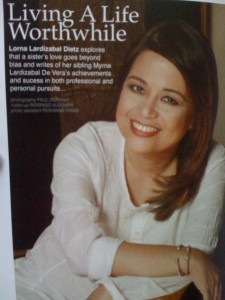 Myrna Lardizabal de Vera: Living A Life Worthwhile
"the unedited version"

By Lorna Lardizabal Dietz
For Zee Lifestyle Magazine
http://zeelifestylecebu.com/
Originally published in June 2010
I thought that writing about my younger sister, Myrna Lardizabal de Vera, was going to be a "cakewalk" — easy and sure. I was wrong. My first profile about my self-assured sibling was a relatively effortless assignment. The article had been published by a Filipino American newspaper five years ago, heralding Myrna's debut into politics when she was sworn in as a Planning Commissioner in the City of Hercules, California.
The perfect opportunity arrived when one of Myrna's friends, Jojo Soriano, asked me for information about Myrna's impact on our family life in Cebu City — from Mabolo to Lahug. Eureka, my "writer's block" disappeared after his request! I just needed to capture the essence of Myrna's metamorphosis from the "dollhouse" to the "powerhouse."
The night Myrna was honored with a special recognition, Jojo's introduction took her by surprise.
"You, however, were known as the 'Pretty One!' — a label you struggled with, growing up, since your family values intellectual prowess rather than external beauty. But this compelled you to do and be more," Jojo informed the audience.
Our parents, Joe P. Lardizabal of Sariaya, Quezon and Sally Veloso Lardizabal of Mandaue City, did not encourage descriptive labels for us during our teenage years. Our friends were relentless. I was considered the "Friendly One," Noemi Dado was teased as the "Sexy One," and Belen Dofitas was praised as the "Intelligent One."
"Tonight, your community and the Hercules Chamber of Commerce present you the SPECIAL RECOGNITION award. We're simply saying to you, Myrna, that your father's beautiful spirit lives on through you. Your sister Lorna's mentoring and your creative response to tragedy have shaped you and made you the person who 'responds beautifully' to life's circumstances; and we, too, recognize the healing effect of creativity amidst life's painful circumstances. Your generosity to help out in front of the public or behind the scenes, we recognize, as well as having an abundant mentality. Give and it keeps flowing through you. And this is why, Myrna, you are the Special Recognition award recipient."
"This moment is a major milestone in my life. I feel I have arrived 'full circle,'" Myrna responded with a hint of validation. "Your award also means so much to me because you recognize me as a person — for all that I do, as Sylvia Serrano explained to me — not just as a woman OR not just as a Filipina."
It had been a very hectic week for the woman previously acknowledged as "The Pretty One." Three days before the event in Hercules, Myrna de Vera had been honored, together with nine other women from West Contra Costa County, at the John & Jean Knox Center for the Performing Arts in nearby San Pablo. The West Contra Costa branch of the American Association of University Women and the Contra Costa College established the on-going CCC National Women's Program to show appreciation to some of the local women who were making a difference in their communities.
Supervisor John Gioia mentioned, "The women on this stage are great role models for young women. They really seem to care about the community."
Myrna explained how she had garnered the accolade for her community development work. "I think that the City Council appreciated my contributions in the Planning Commission for the past five years, where I served as the Chair for a couple of years. I am currently the Vice-Chair of the Commission. In fact, we rotate leadership roles in the Commission. My community is showing its gratitude for my volunteer work as the treasurer of Filipino-Americans of Hercules, my Pastoral Council and Fundraising Advisory Board membership at St. Patrick's Catholic Church in Rodeo, California as well as my Chamber efforts, to name a few of the projects I've been involved in."
A few months before her "double honors" week, Myrna received a working award from the Filipina Women's Network. As one of the "100 Most Influential Filipina Women in the US for 2009," Policy Makers & Visionaries category, my sister promises to "womentor" one or more US-based Filipina women for a top leadership role in government, industry, or non-profit.
"It's a very ordinary story," Myrna insists, as she describes her transformational journey from being the shy, precocious child that Cebu raised to evolving as the confident, compassionate, and personable mommy citizen leader that the City of Hercules nurtured.
Since I am the oldest Lardizabal sibling, I recalled some little-known details. "When Myrna was about four years old in our first home in Mabolo, Cebu City, our brother, Oscar, would take her out on a ride inside his home-built car, which was really a chair placed upside-down on the floor. Our creativity and imagination were somewhat forced on us because we didn't have many toys to play with."
St. Theresa's College in Cebu City was Myrna's educational environment until our mother transferred all of us to her alma mater, the University of the Philippines. After spending her junior and senior years at the UP Cebu High School, Myrna studied at the University of the Philippines in Diliman, Quezon City, and finished with a B.S. Architecture degree. As a licensed architect, she worked in Manila-based architectural firms before moving to the United States.
During her first year in San Francisco, Myrna met another new immigrant, her husband, Manuel "Manny" de Vera, an Ateneo de Manila graduate with deep roots in Manila. During the first year of their marriage, Manny became an exclusive agent for Allstate Insurance in the Excelsior District, San Francisco. Myrna continued working for a couple of civil engineering companies where she learned CAD (computer-aided design). In the meantime, Mark was a bundle of joy for the first-time parents.
When the twins, Christian and Emmanuel, arrived three years later, Myrna opened her own Farmers insurance agency in Hercules. She enjoyed volunteering at the Hercules Chamber of Commerce. Although she was her customers' "peace of mind" specialist, Myrna closed shop to become a full-time mother in 1999.
Myrna listed her duties like badges of honor. "Treasurer and registrar of the Hercules-Pinole Cub Scouts. Team Mom for some soccer games and Little League baseball games. Faith Formation teacher once a week at St. Patrick's. Full-time chauffeur and chief cheerleader of my 'boys,' taking them to their games as well as martial arts classes and tennis matches. I was contented to be my children's mommy citizen leader," she noted.
Inspired by the resiliency of our family when faced with a series of deaths, Myrna found out that she could grieve and unleash her creative writing talent by attending a class at the Hercules Community Center. She discovered several books relating to ancient Filipino and Asian practices about dealing with water curses in the well-stocked Pinole Public Library. Myrna is still working on her first yet-to-be-published novel.
My sister's desire for a simple family life was interjected with friends' suggestions for her to be of service. Myrna said, "It took a resident of Hercules four years to convince me to volunteer. My excuse was that the boys were still so young."
In 2005, Myrna decided to apply for the Planning Commission since she had the requisite credentials. Today, as a seasoned commissioner, Myrna de Vera is involved in approving various projects in their conceptual to final stages of planning.
"Empty nest" is a common word in the de Vera home after celebrating three graduation ceremonies. Mark graduated from the University of San Francisco with a B.S. in Business Administration degree, Minor in Performing Arts and Media Studies. Christian and Emmanuel have just left De La Salle High School in Concord, California.
Myrna discloses the importance of the family's next milestone. "My hopes are that they discover their place in this world, have a positive impact, find true love, be safe and healthy, and be financially-independent. Right now, our utmost priority for the twins is preparing them for the universities they will enter during the Fall — after making such an important decision that can change one's life."
In 2009, 10 years after she closed the doors of her Farmers Insurance agency, Myrna purchased an existing Allstate Insurance Agency and its "book of business" in the busy corridor of 19th Avenue in the Sunset district, San Francisco. Her nascent entrepreneurial endeavors are starting to bear fruit.
Myrna de Vera's inner powerhouse of energy, talent, intellect, and experience is waiting of the next chapter of her life story.
The "Cebuana" and "Americana" — formerly known as The Pretty One — isn't ready to reveal her plans. My sister chose to share snippets of her acceptance speech when she was honored as 'Woman of the Year' of Hercules, California during the West Contra Costa County event.
"I believe that every woman is a citizen leader. She listens, she facilitates, and she arbitrates. In my ideal world of writing women back into history, I envision more mothers stepping out of their comfort zones and finding a vocation in community development, such as a planning commission. A mommy citizen leader would know how to work with dissonant voices in her community — and help all stakeholders find the common ground they can work on.
As author Marianne Williamson wrote: 'We are all meant to shine, as children do. We were born to make manifest the glory of God that is within us. It's not just in some of us; it's in everyone.'
My message to all women and girls, wherever you are: 'Be fearless! Just do it! And shine! Thank you!'"
____
About the blogger, Lorna Dietz (in case you've noticed, my ABOUT LORNA DIETZ section isn't updated). You can check me out at http://www.linkedin.com/in/radiantview.