At around 6:30 p.m. on March 29, 2008, I took a SuperShuttle from the Los Angeles International Airport to attend a book launching at Remy's On Temple, smack in the middle of Historic Filipinotown. My friends, all Filipinas from Cebu who are the editors of BisayaBulletin.com, had helped organize this successful event. Who would greet me at the doorway of this art gallery if no other than the great Benito Miranda himself, the Territory Manager of Secure Horizons (by UnitedHealthCare)? If Benito isn't busy "pushing" value-added Medicare plans and options, he networks in the golf course and at events (yeah, I still remember meeting him for the first time at a Filipinas Magazine Achievement Awards event a few years ago).
As one of Search to Involve Pilipino Americans' (SIPA) board members and SIPA's Past Board President, Benito made sure all of his friends knew about SIPA's 36th Anniversary Awards Benefit Dinner on April 26, 2008. He is relentless, this Cebuano! And since we know that this is a worthwhile cause, we just need to spread the word! Well, Benito Miranda, you got your wish! Just make sure you show up at our October 2, 2008 Filipinas Magazine Achievement Awards event at the South San Francisco Conference Center, ok?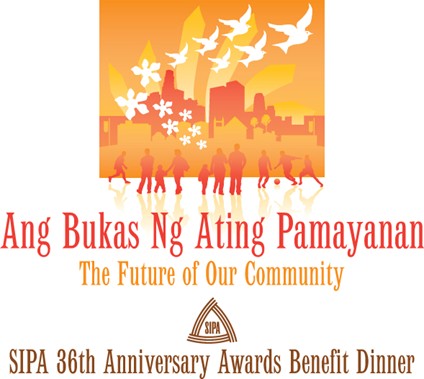 Click here for the full-sized copy of SIPA's 36th anniversary event flier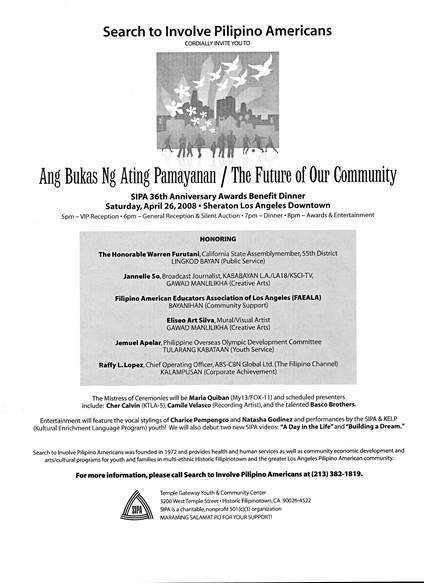 WHAT: Ang Bukas Ng Ating Pamayanan / The Future of Our Community
SIPA 36th Anniversary Awards Benefit Dinner
WHERE: Sheraton Los Angeles Downtown
5:00 pm – VIP Reception
6:00 pm – General Reception and Silent Auction
7:00 pm – Dinner
8:00 pm – Awards & Entertainment
The Honorees:
– The Honorable Warren Furutani, California State Assemblymember, 55th District
Lingkod Bayan (Public Service)
– Jannelle So, Broadcast Journalist, Kababayan LA/LA 18/KSCI-TV
Gawad Manlilikha (Creative Arts)
– Filipino American Educators Association of Los Angeles (FAEALA)
Bayanihan (Community Support)
– Eliseo Art Silva, Mural/Visual Artist
Gawad Manlilikha (Creative Arts)
– Jemuel Apelar, Philippine Overseas Olympic Development Committee
Tularang Kabataan (Youth Service)
– Raffy L. Lopez, Chief Operating Officer, ABS-CBN Global Ltd. (The Filipino Channel)
Kalampusan (Corporate Achievement)
Emcee: Maria Quiban (My13/FOX-11)
Scheduled Presenters: Cher Calvin (KTLA-5), Camile Velasco (Recording Artist), and the talented Basco Brothers
Entertainment: Features the vocal stylings of Charice Pempengco and Natasha Godinez as well as performances by the SIPA and KELP (Kultural Enrichment Language Program) youth
Special Features: The launching of two new SIPA videos: "A Day in the Life" and "Building a Dream"
From the website: For over 35 years, SIPA, headquartered in Historic Filipinotown, has served this impoverished neighborhood as well as the greater Los Angeles Filipino American community with mission-fueled passion and relatively little fanfare. SIPA continues to provide health and human services as well as community economic development programs to the now diverse, multi-ethnic youth and families residing in the area as well as Filipino Americans all over Los Angeles County.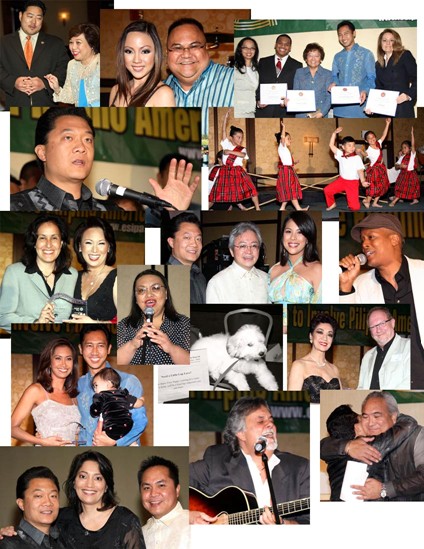 For more information, contact:
Peter J. Corpus
Director of Development & Communications
Search to Involve Pilipino Americans (SIPA)
Temple Gateway Community Center
3200 West Temple Street, Historic Filipinotown
Los Angeles, CA 90026-4522
Tel(213)382-1819 x104
Fax(213)382-7445
Email: [email protected]
www.esipa.org
FAMILY * COMMUNITY