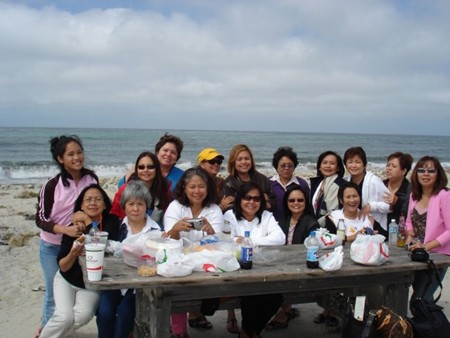 July 19, 2007
When I was fact-checking the information about the upcoming Pre-Centennial Convention of the University of the Philippines Alumni Association in America, I bumped into some news about more reunions in Cebu for 2008.
Marissa Fernan, our ever-efficient classmate and oftentimes-mastermind of our grand reunions in Cebu (remember the 1993 and 1998 affairs?) — with apologies to Carmelita Villarosa, our STC-Cebu HS '73 Northern America organizer — e-mailed our e-groups a few months ago with a reminder. Here is an excerpt from her March 26, 2007 e-mail:
We are celebrating our 35th in 2008 and the homecoming is scheduled on the last Saturday of July 2008 (July 26, 2008). Before or after the Homecoming, we are planning a regional Asian trip and we will eventually conduct a vote on the destination. Any suggestions? I would like to remind everyone that the idea of the tour, aside from being able to see a new place, is for us to bond with one another. So please send in your suggestions and also, if it's convenient, we can fly off for the tour the Sunday after the Homecoming. What we can do so that people abroad are not out for too long, we can dispense with other pre-Homecoming activities and just concentrate on the tour. Maybe we can depart for the tour on July 27th and do 3-4 days.
Tata and I will re-activate use of our Yahoo Groups for the preparations of the 2008 Homecoming soon and I hope all of you will join in. Plan your leaves early and don't miss out in this great opportunity to bond with your batchmates!
Of course, a lot of suggestions came in… and hopefully, before 2008 appears in the horizon, we will have a working plan. If I'm right, there were about 124 students who graduated from STC Cebu in 1973.
During the 25th year after graduation (1998), around 70 of us showed up during the STC Cebu Homecoming and rocked to Ricky Martin's energetic music in the STC Auditorium. What was unforgettable about this homecoming was that we dressed up in our high school uniforms one afternoon. Myra Magsaysay-Sun and her daughters had arranged to pick me up from the Montebello Villa Hotel that day. When they arrived, one of her daughters asked her, "Who is that STC high school student hanging out in the hotel lobby with sunglasses and smoking a cigarette?" Oops!
I also looked up the St. Theresa's Alumane Association's website (STAA). The information seems a little out-dated — or maybe, there's another website with more current information.
What I did volunteer to do was help out with the travel arrangements for classmates coming from the United States. After all, I do have a booking engine right here in my blog. What a service!
I also did a google search for UP Cebu. Apparently, there is going to be a reunion in 2008. The announcement read: "In celebration of the University of the Philippines Centennial in 2008, UP High School Cebu will hold its first ever High School Grand Alumni Homecoming on July 18 and 19, 2008."
My sister, Myrna de Vera, informed me today that her classmates have been e-mailing her about the plans. She also said that if some classmates cannot make it to Cebu in 2008, they would plan a UP Cebu High School reunion in Long Beach, California, in 2008. Well, I told her that I would gate-crash the reunion, ha ha…
All seven children in my family had been educated in UP Cebu.
In 1972, the first batch of high school students trekked the halls of the historic UP Cebu building. Among them was my brother, the late Oscar V. Lardizabal. We had been going to these school grounds off and on through the years mainly because our dad, Jose P. Lardizabal, was an MBA lecturer and we liked sitting in his classes. My mother also went to high school at UP Cebu. I could remember our first papier-mache crafts workshop being conducted one summer (was that 1970?) in UP. One of my dearest memories is meeting Dondi Arcenas and his doting grandmother (God bless her soul!).
Fast-forward to 1973. I enrolled in UP Cebu. A few months ago, I e-mailed Pinky Veloso, a Political Science major in UP Cebu, and who is also a member of my Philippine Veloso Association yahoo group:
Some UP Cebu Trivia:
I was one of the first college students in UP Cebu in 1973 when it reopened (it closed down sometime in the late 1950's)… My dad was an MBA lecturer there for many years — and one of his students was Rosette Lerias. I don't know if Helen Banez still teaches there but she would remember all of us. Jessica Carino of UP Baguio was my classmate.
I kept a "slum book" of my first year & 2nd year classmates, among them:Philip Rodriguez (Filippo), Marilyn Lagura (now a judge), Jeff Allid (VP of Jollibee – Visayas & Mindanao), Freddie Santos (actor), Delia Yap Maderazo, Alex Arnado, Wilson Gaw, the late Mike Anson (the first one who died in our batch, at 19 years old, killed in a club — Pinehurst on Gen. Maxilom Avenue by USC Boys High — in Cebu), and so many more.
Before I met UP's former president, Dodong Nemenzo, we were taught Biology by his late father (he taught without any notes, just straight from his head; we were impressed). Our history teacher was the (late) chain-smoking Miguel Enriquez who debunked all American-inspired Philippine history factoids.
Our claim to fame was that we wanted to build a quonset hat (kiosk) as one of our classrooms — we even had a budget and blueprints — but the UP administration nixed the plan (headed by the late Salvador Sala, the husband of my piano teacher, Pilar Blanco Sala). Two years later, the administration built quonset huts for the expanding classes, can you imagine that?
Behind the main building stood a "forested" area that became the setting for the Visayan movie (with Chanda Romero), "Tarzan." Oh, we used to play pelota inside the classrooms, too, in between classes or play tennis (I lost 10 lbs. on a loveset within two weeks — and I lost to Freddie Santos!).
We'd also hop in one of our classmates' vans and go to a ngoyong place near USJR or watch a movie, go bowling, all 39 of us — AND we were the first ones who started a CRAZY DAY, where we dressed up as TV or literary characters. We had fun! We even have a film (taken by Thelma Gallardo of Cebu Medical Supply) about our first basketball tournament, complete with a cheering squad that intoned (sang), "Pray for the dead, and the dead will pray for you!"
I have no idea what the pioneer UP Cebu college students, class 1973, have planned for a centennial gathering. I can certainly gather some of my photos, scan them, and send it off to my classmates. Calling Delia Yap, Chona Yu, Rory Ong-Yiu, Raoul Cola, John Cinco, Madonna Suico, Papot Lapinig, Maris Mercado, Angela Figueroa Paulin, Mannix Yaranon, and the rest of you!!!
Classmates, let's get together in July, 2008!