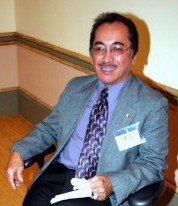 MY OPINION
I thought about this quote when I first heard the news about Larry Formalejo. "There are things known and there are things unknown, and in between are the doors of perception." (by Aldous Huxley, English Novelist and Critic, 1894-1963)
Larry Formalejo may have resigned as Mayor of the Town of Colma — and life will go on… Stepping down from a public office is not a sign of defeat. It means that Larry Formalejo knows his priorities. For many of Colma's citizens and residents, seeing Larry continue to bring joy and happiness to their many community-based efforts in making Colma a better town to live and work in is what matters most.
I know there are parents out there who can empathize with Larry's situation. What is common ground is that most parents are concerned when it comes to their children's well-being and would work at finding out how they can comfort and best support their children during traumatic circumstances — and yes, without abusing their positions in the workplace or government.
In Larry Formalejo's case, his role as a father was not what other public servants saw. They perceived Larry Formalejo as a mayor first, not as a concerned parent. Different perceptions. Different motivations.
Let's remember the human factor of this situation. Larry, I commend you for having the courage and bravery to be a parent first.
This is the text of Larry Formalejo's resignation letter. In his own words.
February 13, 2008

Diane McGrath, City Manager
Town of Colma
1198 El Camino
Colma, CA 94004-3212

Dear Diane,

Statement of Larry Formalejo

Effective today, I hereby step down as Mayor of this Great Town of Colma.

I do so with great sadness in my heart and remorse for any heartache I may have caused to my fellow council members and more importantly, to my community.

I have been your Mayor for only a brief period of time. As a young Mayor, I have tried my best to serve the community as best as I can. I have much to learn however, and along the way I may have made some missteps.

You should know that I have a family and a son whom I care for deeply. Last year, he was arrested for a DUI. As a result of his arrest, I took some actions that may have been perceived as in conflict with my ethical obligations as a City Councilman at that time. Although I cannot go further into the details of my actions based on the advice of my attorney, I am accepting full responsibility for the situation and offer my apologies to everyone involved. Although not an excuse, you should know that I acted as a father who was simply concerned with the well being of his own son.

These actions of mine, again which I take full responsibility for, would result in a long protracted legal battle. Rather than engage in such a battle, I am stepping down to avoid causing any further disruption in the governance of the Town of Colma.

I have a family whom I love dearly. I have a community who I care for just as much.

I am sorry for this. I hope to prove to all of you that I am worthy to be your Mayor again someday in the future. I have a lot of work to do. I will try harder to be a better councilman for everyone in the community.

Sincerely,

[signed]Larry Formalejo
Larry Formalejo
Mayor of Colma