I always say that it takes a village to raise a child — and the child that Filipino fusion fashion has raised is for a noble cause — that our indigenous weavers in the Philippines do not lose sight of their traditional weaving techniques for the sake of progress: leaving for overseas employment. Anthony Cruz Legarda, ever since I started volunteering with him through ARKITEKNIK, is a couture designer extraordinaire. There is a saying that "Kindred spirits find each other, no matter what." We are definitely like-minded. I hope to make it to this fashion show fundraiser. Please join me.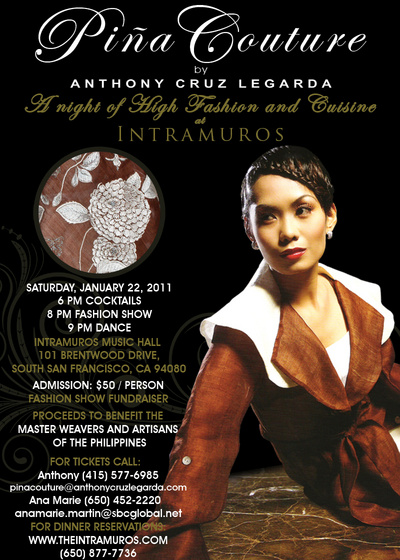 For Immediate Release
Contact: Anthony Cruz Legarda
Mobile: (415) 577 – 6985
[email protected]
PIÑA COUTURE BY ANTHONY CRUZ LEGARDA

A NIGHT OF HIGH FASHION AND CUISINE
December 2, 2010, San Francisco, CA — Filipino American high fashion makes a grand entrance, accompanied by sumptuous Filipino cuisine during the much-anticipated fashion show, "Piña Couture," on Saturday, January 22, 2011 at 6:00 PM at the Intramuros Music Hall, 101 Brentwood Drive, South San Francisco. Proceeds from this fundraiser fashion show event benefits the master weavers and artisans of the Philippines.
The philosophy of the Anthony Cruz Legarda Fashion House and Textile Design Studio is fusion eco-artwear that combines beautiful Filipino fabrics with modern American sensibility. Fabrics for the collection are hand-woven, embellished, and dyed with natural pigments by indigenous master weavers from the Philippines. This encourages development of eco-entrepreneurship and sustainable fashions by honoring traditional methodologies and fair trade with native artisans.
The signature textile is piña, a high-quality cloth hand-woven from natural pineapple fibers made only in the Philippines. Other variations in the fabric palette include Philippine silk, organic cotton, and other natural and eco-friendly fibers. The workmanship of the collection is a revival of the golden era of Philippine arts and culture. Each piece is opulently hand-woven, embroidered and beaded by Filipino master artisans in Kalibo, Lumban and Iloilo.
The emphasis is the research and development of new hand-woven textiles with organic fibers and natural dyes for the world market. These fabrics are then hand-embroidered and beaded by talented craftspeople from the Philippines. Motifs of the embellishments are a mélange of eastern and western iconography and patterns. Ultimately, these translucent and iridescent textiles feature the technical virtuosity of Filipino master weavers and artisans.
Donation pricing starts at $50.00. For tickets and more information, please contact: Anthony Cruz Legarda 415.577.6985 or
[email protected].
This flier can be forwarded easily to your friends. EMBED code is provided. The shortened URL is http://scr.bi/fOH8in
Pina Couture by Anthony Cruz Legarda at Intramuros Restaurant, Jan. 22, 2011