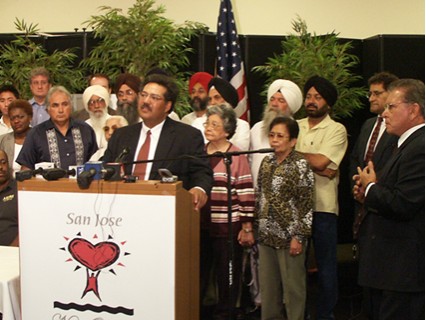 This is every event organizer and public relations practitioner's issue: When you've invited many speakers to talk before an audience and you want to adhere to tight time management guidelines for this particular function. I am not a protocol or etiquette expert. However, I write "sequence sheets" or "time schedule slash scripts" for some tightly-produced events, taking into account that I need "wiggle room" for overtime.
To my friends in the Filipino American community, and especially to Filipina women organizers "who've been there, done that, did this," I would like to hear your happy anecdotes and horror stories about these "two minute" speakers.
We've all been there.
Here's a typical scenario I've experienced.
It's a one-day conference and you've informed all the speakers that they can speak to your luncheon audience, two minutes per speaker. Then, you remind them that the attendees are following a very tight program afterwards and thus, you tactfully advise the speakers to have prepared speeches since they are only allowed two minutes each. You've also apprised the emcees that you would prefer 20-second introductions for each speaker.
What happens next?
Which speaker below can you relate to? Or better yet, are you this type of public speaker?
1. The speaker who never responded to your invitation to speak and who shows up at the last minute, expecting to be a speaker.
Wow! This is a most embarrassing situation. (I decided to include this type of speaker because not many event organizers have addressed this occurrence.)
You would say, "Mr. Never Responded, unfortunately, we cannot accommodate your talk in this session because we didn't receive your RSVP to our invitation to speak. I really don't know what happened AND we can accommodate your 2-minute talk at another function in this event."
Mr. Never Responded replies: "That won't work. You asked me to speak during the luncheon."
You would smile and stay firmly in control: "Mr. Never Responded, we appreciate that you came all the way from Far Away Land to be with us today. We'll be able to have you speak during our Fellowship Party tonight. You'll be the third speaker. Miss Follow-Up here will guide you."
Don't wait for an answer or any rebuttals. Excuse yourself because you are very busy coordinating all the elements of your successful event. Just make sure that Miss Follow-Up treats your Mr. Never Responded speaker with kid gloves, whether or not this person supposedly exercises political clout for your event's attendees.
What if the speaker had been invited to speak at a stand-alone event?
There is no right or wrong answer for this question.
My initial answer would be, "No, we cannot change the program since this has already been approved by the committee. It is most unfortunate that we didn't get your timely response. During our next event, perhaps, we will invite you again — as long as we receive your response during the given deadlines."
If, at the back of their heads, they are saying "You bitch! Who do you think you are?" — look at it this way: Would you want the same situation to happen to you if you were the event organizer?
Now, here comes the complications.
a. Mr. Never Responded threatens to pull out his support, sponsorship, donations, or whatever monetary assistance he has given to your organization.
I would say, "I will definitely make sure that the committee knows about this in writing. Would you be so kind to write to the committee about what you just told me?"
OR
b. When you say, "No," Mr. Never Responded complains to every guest in the event that he wasn't allowed to speak, and that his prime competitor number 1 has been asked to speak.
Trust that you will not win with this one, no matter what happens.
Recently, Mr. Never Responded tried to pick a quarrel with an event organizer (who just so happened to be handling the community reception that was being given by the mayor of a major US city to celebrate an ethnic group's Independence Day in Far Away Land) because he wasn't allowed to speak (yes, because he didn't respond to the invitation to speak). The mayor is currently having second thoughts about hosting future community receptions for this racial group. "What a quarrelsome and ungrateful community," that's what this mayor is probably thinking.
And Mr. Never Responded black-listed the event organizer's name for any of his organization's future events.
2. "I can wing it!"
This is the speaker who believes that the cue card with his or her "bullet points" is all that's needed. Or, "I know this organization like the back of my hand. I have an automatic outline in my head!"
Wrong!
Two minutes comes and goes so quickly!
Unless you have mastered the art of knowing how many words make up your two-minute speech or what the rate of your talking speed is, don't even attempt this.
What's the best way to prepare for your 2-minute speech?
a. Write your draft.
With a 12-point font on your word processor, single-spaced, write your speech until you reached three-fourths of the typed page.
b. Read your first draft aloud with a stopwatch.
You have a stopwatch function in your cellphone. Look for it!
Chances are, with the speed of your talking, your speech is just a little over two minutes.
c. Start editing.
Take out the superfluous greetings that honors everyone of importance in the event. The introductions, from my experience, take one minute of your time. Honor everyone as a "whole." Thus, "Convenors, Friends, supporters, and key advocates of the 'Theme of the Event'" is ok with me!
d. Read your revised speech aloud and time it again. Repeat the process of rewriting until you can read your speech aloud within 1 minute and 50 seconds.
e. Your final speech is transferred to cue cards on 14-point font size, with red marks and highlights that show when you need to slow down, emphasize certain words, or pause.
REMEMBER: Be brief, concise, and effective.
3. "What? They are only giving me two minutes to speak? I'm a Very Important Person! I have a lot to say SO when I am onstage, they won't be able to kick me out if I speak longer than my two minutes."
Talking about "disrespectful speakers," this is the worst kind!
I remember one luncheon experience wherein I was asked to read a speech on behalf of a government agency. I was one of 10 speakers! Just the fact that there were 10 speakers who were allotted 10 minutes each in a luncheon reception at a conference was a mistake in event planning (and I wasn't the event planner).
One of the speakers who decided to make his speech an evangelical mission rah-rahhed the luncheon audience for 30 minutes! The event coordinators told me to cut my speech to five minutes. I didn't have a stopwatch but I brought an analog tape recorder to time my speech. Before my five minutes were up, a nervous event coordinator sent me a note telling me to cut my speech. I was really irritated because I was within my time limit. When I listened to my recorded speech later, I discovered to my relief that I had spoken in less than five minutes.
You can imagine my consternation having to edit a 10-minute speech into a five-minute speech while I was talking — without any rehearsal! Fortunately, I had been writing and making speeches for many, many years so creating a new speech from the original version was a "cake walk."
Here's what happened after this luncheon experience:
a. I complained to the event organizer that the intended message the speech evoked was not properly given. He decided to reprint the text of the speech in the organization's website.
b. The evangelical speaker who spoke longer than intended was in my "Do not invite to speak at my event" recommendation list of speakers, no matter how many people told me that the organization this speaker represented promoted a good, worthy cause.
My retort was: "The intention might be good, but the effect of his actions surely turned me off. I'm not recommending him. Find me someone in their organization who can speak within the timeframe we want. Tell them to be respectful about people's time, especially if they are looking for support."
Yes, it's true that event organizers ask each other about their experiences with past speakers at their events. So, if you're black-listed, or if you get extra notices for a "Yes, we would really appreciate it very much if you speak well within the time limit," then you might want to read between the lines. And chastise your "handlers" or your staff members for not being more honest with you. If your colleagues are out for your success, they will not have any qualms reminding you, in a very gentle way, to watch your time management.
Going back to our original VIP speaker who feels that he or she needs more time to speak?
There are several solutions.
Maybe the topic is so provocative and sensitive that it warrants its stand-alone forum or a keynote speech. It's up to the event organizers to find out what would work.
The VIP speaker could invite the audience to his or her hotel's hospitality suite so they can continue a discussion.
My favorite solution is:
1. Give the participants a presentation kit about your talking points ahead of time.
2. While you talk, make sure you have a synchronized video presentation to illustrate your talking points.
3. Invite the participants to connect with you in a personal way by making yourself available during set timeframes during the event. Invite the local media to talk to you after your speech.
WHAT IF THE SPEAKER IS AN ELECTED OFFICIAL? IF HE OR SHE TALKS BEYOND THE TIME LIMIT, DO WE HAVE THE RIGHT TO CUT HIM OR HER OUT?
One of my political consultant friends told me that once the elected official is onstage, we cannot tell him or her, "Your time is up!" Grin and bear it.
I found a way out of this predicament, though.
One day, the Very-Important-Elected-Official in Far Away Land's speechwriter called me to ask for more information about the event. Before I discussed anything, I enthusiastically told the speechwriter about what a tightly-scheduled, exciting program we had in store for the event. The operating word was "tightly-scheduled." I mentioned all the related words too! "A 45-minute program within a 1-1/2 hour event," "Every speaker is asked to speak for two minutes AND as a keynote speaker, Mr. Very-Important-Elected-Official will be scheduled for 15 minutes. This program's schedule is the Highest-Official-in-the-State's request."
MY TIP: Always make friends with the speechwriter and the handlers of the VIP person. Make them your allies! Namedrop. Mention the home state elected official's request for a timely program, especially if this elected official is the host or honorary chair of the event.
Remember, every speaker is a messenger. Speaking before an audience is not about being a VIP or being acknowledged as an important person. The prime directive of any speaking engagement is to inform, inspire, persuade, or entertain.
WHAT IF YOU'RE PREPARING A 10-MINUTE SPEECH — OR LONGER?
From memory, here are some tips gained from my Toastmasters International experience in the very early 1980's that might help you determine your meaningful and appropriate talking points:
– Remember the theme of the event. Always find a way to relate to this theme by providing a validating short quote or saying, preferably in the introductory first or second sentence.
– What kind of language does your audience understand? Speak in the language your audience can relate to. Is it the "touchie, feelie, holistic language?" Or is this an online social network that talks about "kicking ass content" and "douche bag" as acceptable words to use? Is this a political empowerment type of gathering? Or a business networking event?
– What one problem/issue/concern do you want to address? (Yes, for a 5 or 10-minute speech, one issue might suffice.)
– What three solutions or recommendations do you want your audience to know about? (Give brief explanations.)
– What is your "call to action" based on these three solutions or recommendations? Remember that you might only advocate for one out of three solutions.
– For your closing statement, connect it to your introductory statement (which might have some reference to the event's theme).
One of my close friends, in a phone conversation, shared with me his defintion of "The Best Speaker," according to professional standards. These speakers practise what they preach.
1. They take the time to know everything about the topic they are speaking about.
2.They write their speech according to the amount of time allowed.
3. They practise their speech so that it will be understood throughly to their listeners even if there is a bad microphone or sound system. (These sound system defects happen about 80% of the time.)
4. If they don't have a written speech in their hands, they have gone beyond reading a speech.
ABOUT PUBLIC SPEAKING AND ME
My personal belief is that no matter how good you are at any topic underneath the sun, it pays to invest in public speaking skills and effective communiations skills. I worked on my public speaking skills in my early 20's when I became the first woman member of the Sinulog Toastmasters Club in Cebu City, Philippines. There were only 19 members in our club yet we devoted a lot of time to bond with each other while we learned effective public speaking skills. My fondest memories are about Ernie Limkakeng, Joseph "Dodong" Baduel, Boy Caudor, Brogs Dalman, and the late Johnny Francisco as well as Charles Sy, and Arlene Faigao and Elvie Fuentes from the nearby Cebu Toastmasters Club. In 1983, I won honors for my club by being the first-runner up winner in the "Speech to Entertain" Contest in the Philippine Toastmasters National Speaking Contest at the once-Hyatt Regency Hotel in Baguio City, Philippines. That was a very competitive event because I was the first speaker — and probably the speaker that provoked the rest of the contestants in my category to be the best speakers they could be! So, I'm happy with my first-runner up laurels especially since my speech was a true story. I had just lost 45 lbs. so my speech was entitled "My Battle with the Bulge!" I also became a better creative writer because of my Toastmasters experience.
In 1997, during my employment at the San Francisco Business Times, Jamie Silver, my Advertising Director, and Caterina Rando, exposed me to Lee Glickstein's Speaking Circles program. I finally conquered, in one day, my fear of "speaking from the heart," or in Toastmasters parlance, "the extemporaneous speech." I am forever gratefule to Caterina Rando and Dr. Doreen Hamilton for helping me learn the art of Authentic Speaking.
TWO MINUTES ONLY!
I've made it easier for people to know what I'm like to work with. For future major events I'm involved in, I will invite all prospective speakers to check out my blog entry.
~0~0~0~0~0~
Here is a photo of one great speaker who inspires me in anything that I do, especially in multi-ethnic coalition advocacy work: Mohinder Mann, Esquire