I started with one posting about the "Pinoy Dining Guide" for the San Francisco Bay Area so whenever people asked me for a listing of Filipino-themed restaurants, I could quickly look it up in my Blackberry 8830 (from my own postings, of course!). Yes, my friends know that when I enjoy a well-prepared meal, I really look ecstatic! No one has dared to shoot a photo of me when I'm in this almost-Nirvana state of mind — not yet, anyway. I haven't gone to the level of actually slurping my soup just like the Japanese do when they want to show their satisfaction. Yet, I do take the time to savor the taste of the ingredients and speculate on the spices and seasonings that were used as well as the preparation methods. After all, the food industry is my first love.
So, I have these friends, Agnes Torres and Dada Tan, who are members of the Filipina singing group, the Spice Divas. I haven't been updated with their latest singing gigs but I have hilarious fun during the rare times we get together. They sing for the love of it!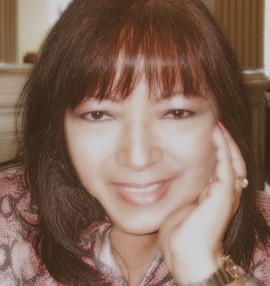 In the last couple of years, Dada has been sending emails to her friends about her food reviews. I suspect that she actually likes writing about her culinary adventures. Dada's e-mail about Archipelago Bistro in December 2007 was particularly interesting and oh-so "salivating" that I forwarded it to my colleagues in Fil-Am media. I'm also cajoling Dada to blog about her food adventures.
Jacqui Conclara of Manila Bulletin-USA printed Dada's edited food review a couple of weeks ago. Shortly after the article was published, I met Archipelago's Jack Tien at a mixer hosted by the Young Filipino Professional Association (YFPA), who provided me with a menu of the restaurant's gustatory delights with his follow-up email. Jack also sent me some beautiful photos of their restaurant. I have yet to make the time to enjoy Archipelago's cuisine. For now, I can walk in Dada's shoes and pretend that I've actually been there.
For reservations, you can contact Jack Tien at 650.348.3888 or at [email protected].
🙂 And here is Dada's unedited review:
Archipelago Bistro
1107 Howard Avenue
Burlingame, CA 94010
(650) 348-3888
It was over two weeks ago when I first heard about Archipelago Restaurant from my long time friend and classmate, Tet Alba Gaskell. I found out her brother-in-law Chito Dakis (a graduate of UP) is one of the partners in the business. I was real excited to try another Filipino owned fusion restaurant in the San Francisco bay area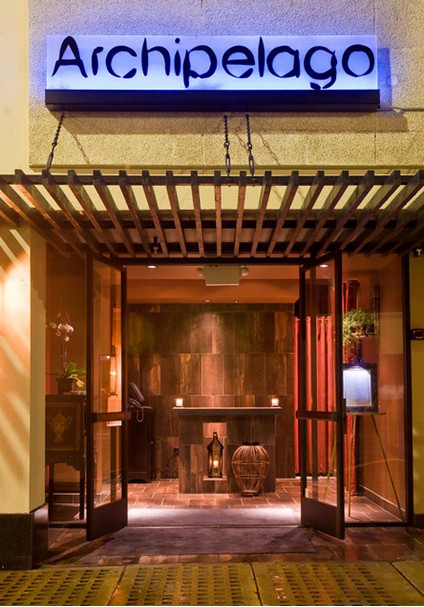 I wanted to celebrate my belated birthday dinner with my family and sister at Archipelago so we went there 2 weeks ago. We got to the restaurant and saw their modern signage outside. There are elongated rectangular orange lanterns hanging on the ceiling of the bar area on the left side as we entered. Some painted bamboos are part of the décor. There is an archway leading to the private banquet room. To the right is the main dining area which is a just little bit too dim. There are nice booths along the walls with modern wall lamps. In the center of the high ceiling room where we sat are hanging bamboo fish trap baskets used as lamps. There are more bamboo décor towards the back. The wood tables did not need any table cloths. Dark orange napkins are displayed neatly. The waiters are dressed in all black with dark orange floor length aprons. I am in awe at how beautiful the restaurant is and just so classy, elegant and romantic. It is really impressive with the Oriental and modern ambiance of this upscale restaurant that opened on November 9, 2007. I kept repeating "WOW" several times.
We started with a bottle of Sparkling Fantinel Prosecco which is just like Champagne. It is quite reasonable at $25. For those who wish to bring their own bottle of wine there is a corkage fee of $15 per bottle. Their menu changes daily and have interesting names. They use a unique blending of ingredients which is quite a challenge for the palate. That day they had a small selection of entrees (only eight) but it was a good variety. There are more small plates (appetizers and salads) than entrees. We got four small plates below so we could try a lot of their selection. I had to copy all the descriptions in the menu so you can see the complexity of ingredients. They are all good but our favorite is the Spanish Cheese and Chorizo "Relleno" which was excellent!
Red Wine Steamed Manila Clams, grilled garlic crouton with herb compliment ($8.75); Spanish Cheese and Chorizo "Relleno" atop Spicy Chili Mole with Smokey Crouton ($7.50); Atlantic Diver Scallop "Carpaccio" with citrus marinade and American Sturgeon Caviar ($12.00); Citrus Cured "Lengua" with garbanzo emul, tomato confit, preserved lemon and fried chick pea ($9.00).
While waiting for our small plates, I asked the hostess if Chito was in the restaurant. Then I finally got to meet him, his friend and his other partner. Chito even gave me a tour of his restaurant including the kitchen. When I entered the kitchen I was surprised to see about a dozen chefs with their traditional culinary white uniforms and high hats bustling around. I found out some of them are interns from the California Culinary Academy in San Francisco. I was introduced to one of the French Executive Chefs who had worked for the French Laundry Restaurant in Yountville (Napa Valley). It is one of the top restaurants in the United States and also voted best in the world. I was already quite impressed.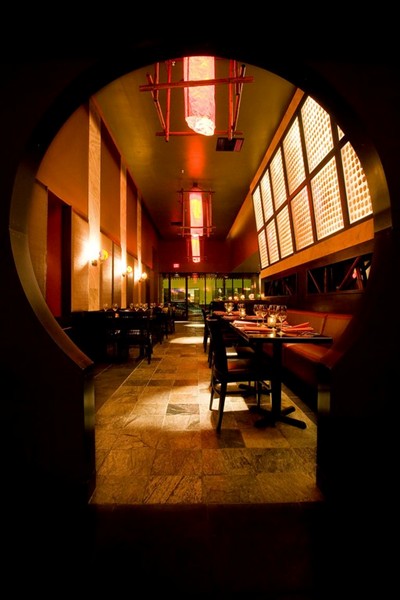 For our entrees, I ordered the Slow Cooked Lamb Shank with Sweet Corn "Pudding", Baby Squash and Artichoke Quarters ($23.50) which is real good. My husband had the Grilled New York Steak with Sauteed Pea Leaves, Baby Leeks, Pan Roasted Salsify, Potato "Tourne" and "Star Anise Brandy Sauce" (24.50) which is quite good. My oldest daughter had the Lacquered Duck, Caramelized Baby Bok Choy with Yukon Gold "Fondante" and Grilled Shitake Mushrooms ($21.00). According to my husband it is a little gamey. It was a little bit dufferent so it's just okay. My other daughter ordered Spice Perfumed Slow Braised Short Ribs, Coconut Cream Risotto, Sauteed Broccolini with Asian Peppercorn "Gravy" and Baby Carrots ($21.75). We all agreed this is excellent and the best of our entrees. My sister had the Napa Cabbage Shrouded Sea Bass atop Kaffir scented Yellow "Broken" Rice with Thai Curry Cream, Baby Turnips and Sweet Pepper Tapanade ($22.50). It is good but a little bit dry.
We decided to have three desserts and they are $6.50 for each one. The first dessert is Turon which is banana wrapped and fried and are miniature sizes. There is a chocolate sauce in a tiny saucer so you can dip your Turon. Next we got 5 miniature apples dipped in caramel with a lollipop stick inserted in each one. You can dip them in nuts or sauce. Then we had Vietnamese Coffee Creme Brulee. All the desserts are good. My husband and I had coffee also.
Overall, the food is good, excellent service, wonderful ambiance and a great place to impress your friends. One more thing I like to add if it is worth mentioning is the ladies room. It has a touch of class with the small Oriental Chinese cabinet, 2 black and gold mirrors and wall mounted candelabras.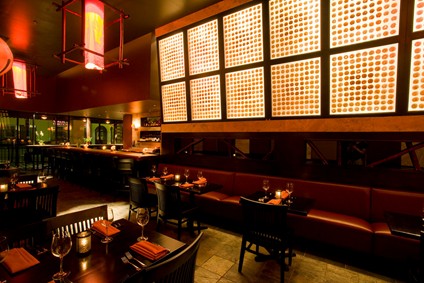 Best of all, we were quite surprised when our waiter announced that our desserts are compliments of Chito Dakis. Thanks so much! We had a wonderful time at your restaurant and I will be going back soon with my friends. I wish you much success in your business!
My ratings – 4 stars (excellent), 3 stars (very good), 2 stars (good) 1 star (okay)
Ambiance – 4 stars
Food – 3 stars
Service – 4 stars
Prices – $$$
Parking lot across street and also street parking. Reservations needed
😀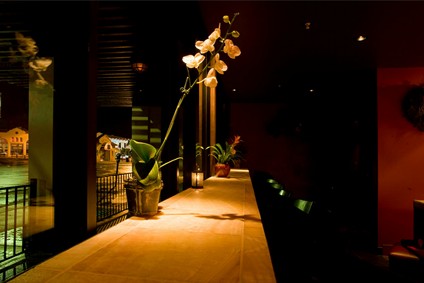 Here's the menu (thank you, Jack!) as of January 9, 2008.
ARCHIPELAGO: The first of its kind, Archipelago promises a truly unique dining experience. Showcasing the wonderful "East-meets-West" cuisine of the Philippines, the restaurant brings a new twist to the flavors of Southeast Asia and traditional Spanish cooking styles. A group of 7,101 islands sitting in the South China Sea, the Philippines has been the center of the Spanish Galleon trade in the Orient for over 300 years. Thus, culinary influences from all over the region have fired the intense gastronomic passion of the Filipinos. Archipelago in Burlingame is bringing this passion through a delightful and non-traditional menu using local and organic ingredients, when we can.
Allow us to take you on a wonderful journey through the islands and experience the hospitality of Southeast Asia!
SMALL PLATES

Quartet of Oysters" Preparation 10.75
Lobster Bisque 10.00
Topped with Crème Fresh and American Sturgeon Caviar
Sinigang Chicken Leg Jambonette 7.00
Vegetable Mirepoix Broth
Crisp Fried "Rillon" of Pork 8.50
Apple Mustard Reduction & Spicy Pickle
Spicy Fresh "Kinilaw" 9.25
Quail Egg Nest & Avocado Mousse
Spicy Duck Rillette 8.00
Chinese Mustard Vinaigrette, Daikon Salad & Toast
Hearts of Palm & Roasted Beet Salad 7.50
Balsamic Reduction, Nicoise Olives, Bulls Blood Greens
Atlantic Diver Scallop "Carpaccio" 12.00
Citrus Marinade & American Sturgeon Caviar
Sautéed Prawns 10.25
Shoyu Scented Shitake Rice, Black Bean Sauce & Wilted Asian Greens
Shredded Pork Lumpia 7.00
Accompanied with Sweet & Sour Dipping Sauce
Flash Grilled Romaine Heart 7.25
"Caesar Emulsion," Parmesan Slivers, Balsamic Reduction & Crispy Brioche
Citrus Cured "Lengua" Terrine 9.00
Garbanzo Emulsion, Hearts of Palm Salad & Tomato Confit
Rice Wine Steamed Manila Clams 11.50
Grilled Garlic Crouton with Herb Compliment

ENTREES
Lacquered Duck 21.00
Caramelized Baby Bok Choy with Yukon Gold "Fondante" & Forest Mushrooms Duxelle
Grilled New York Steak 25.50
Sautéed Pea Shoots, Pan Roasted Salsify, Potato "Tourne" & "Star Anise Demi Sauce"
Grilled Bone -In Kurobuta Pork Chop 24.00
Black Eyed Pea & Bean Ragout w/ Sautéed Chard, Sweet Corn Croquette & Maple Whiskey Sauce
Spice Perfumed Slow Braised Short Ribs 21.75
Coconut Cream Risotto, Sautéed Broccolini with Asian Peppercorn "Gravy" & Carrots
Pepper Crusted Half Lamb Rack 27.00
Sautéed Forest Mushrooms Duxelle, Pommes "Anna", Baby Carrots & Glazed Chestnuts
Sautéed Atlantic Diver Scallops & Gulf Prawns 27.00
Glazed Baby Carrots, Truffled Mashed Potatoes & Miso Butter Sauce
Grilled Hawaiian Opah 22.00
Sauté Oyster Mushroom, Spring Onion, Confit Potato & Smoky Pepper Coulis
Olive Oil Poached Blue Nose Bass 21.00
Black Rice, Caramelized Fennel & Glazed Baby Carrots

20% Gratuity will be added for parties of six or more
Please refrain from using cell phones in dining room
1107 Howard Avenue, Burlingame, CA 94010 Ph. 650.348.3888 Fax 650.340.8693
DESSERTS 6.50
Duo of Crème Brulee
Vietnamese Coffee and Hazelnut
Coconut Panna Cotta
Adorned with Pineapple Gelee and served with Tamarind Drizzle
Mango Bombe
White Cake layered with Mango Fool and Covered in Coconut Shavings
Turon
Resting on Sweet Curry Aigre-Doux, Served with a Cinnamon Chocolate Dipping Sauce
Caramel Apples
Accompanied with Spiced Peanuts, Dark Chocolate Bits and Crushed Candy Cane
Cookie Assortment Platter
Ginger Bread, Pistachio Biscotti and Mint Chocolate Chip
DESSERT WINE
Glass Bottle
Chambers Rosewood Rutherglen Muscat Australia 6 32
Michele Chiarlo Nivole Moscato 06 Italy 6 30
Royal Tokaji Aszui 03 Hungary 8
Fonseca Porto Portugal 6
Taylor Fladgate Late Bottled Porto 97 Portugal 10
O'Mara's Irish Cream Ireland 6
COFFEE
Brewed Coffee 3 Irish Crème 6