I don't write too many profiles nowadays. This particular article that I wrote for Filipinas Magazine actually took eight months to germinate in my "to-do" list before it even saw print. Well, it was worth the wait. I wrote this story because I wanted to highlight the entrepreneurial experiences of our successful Filipino American business owners. Johnny Francisco of Travelfast International, Inc. and Mango Tours certainly fits the bill. Peachy Pelaez had introduced us many, many years ago when my attention was still on the Rotary Club of Fisherman's Wharf-San Francisco and the San Francisco Business Times, not on the Filipino American community. So, when I finally sat down with Johnny inside a private conference room at his Flood Building office, it was quite an exhilarating experience for me especially since he had this forward-thinking attitude about the travel industry. Now that his son, Jappy Francisco, is handling the marketing for Mango Tours (do I hear a lot of second and third generation Filipino Americans trekking the beaches, mountains, and clubs in the Philippines?), succession planning (which I keep hounding family-owned businesses with) seems to be working just fine for the Francisco family.
The article is found on pages 20 and 21 of the January 2008 edition of Filipinas Magazine.
🙂
Traveling with Johnny

by: Lorna Lardizabal Dietz
"Taking a chance on running a travel agency nearly 30 years ago, Johnny Francisco has built a business that continues to soar."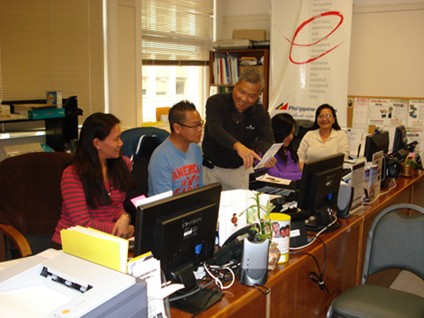 It is 11:00 p.m. in San Francisco. A sleepy Filipina travel sub-agent, who has an online booking engine at her website, answers a telephone call from a friend in Chicago. Apologetic, he asks, "My grandmother just passed away — and I want to leave in a couple of days for Manila. I need the best internet airfare. Can you help me?"
After noting some basic information, she guides her prospective passenger with his first online booking experience. Then, she calls 1-800-2-MANILA (626452) or 1-866-2-MANILA for additional assistance on quotes and advice for emergency travel. The "24-hours a day/7 days a week" live operator phone service is based in Manila. Within an hour, her friend feels comfortable with the internet sales tool, courtesy of Travelfast International, a.k.a. Travelfast.com, the sub-agent's consolidator. Amadeus, Travelfast's technology partner, provides the cutting-edge global distribution system that is connected to over 220,000 travel agency terminals worldwide.
Johnny Francisco, the President of Travelfast International, whose company has served the ethnic Asian travel community since 1978, takes pride in being able to give his 3,543-plus travel agents and sub-agents the technological clout of an automated booking system with real time availability and instant confirmation. With a 30-year milestone coming up on March 6, 2008, Johnny reflects about his company's prominent and seasoned leadership in an industry that is expected to boom exponentially in internet airfares.
"I had no choice!" Francisco declares. "I already had a lucrative import-export business in the Philippines. This was the only way for my family to stay permanently in the United States. So, I bought this existing travel agency — lock, stock, and barrel. I had to learn the ropes quickly."
Johnny's San Francisco office in the historic Flood Building at Powell and Market Streets, close to the daily cacophony of cable cars' bells and shoppers' traffic at nearby Union Square, has proven to be an ideal location. "The overhead was pretty low. There were no computers then. With one other person helping me, we used an index card system for our reservations. It was all about hard copies before the era of the database system," he recalls. Francisco was confident about Travelfast's product mix, comprised of carriers such as Philippine Airlines, Pan American Airways, and Northwest Airlines.
Johnny's entrepreneurial spirit also honed his guerrilla marketing techniques for building his company from the ground up. His belief in the power of "personal connection" meant distributing fliers to Filipinos he met at the crowded Market Street corridor and members of Filipino community-based organizations. San Francisco, during the late 1970's, was home to a larger Filipino population compared to Los Angeles or Chicago.
"I was one of the first to add my photo to my business cards so that people could relate the name to a face. I inherited existing clients from the previous business owner but I still had to win their trust. My word had to be good," Johnny said. "After the first year, I was hooked. The commissions at that time ranged from 10% to 25% per plane ticket. There was also a lot of competition from five large Filipino-owned travel agencies that controlled the market in 1979. These agencies eventually closed shop."
Dealing with an economically-diverse clientele, Johnny marketed a Fly Now, Pay later program for the next 10 years. A relationship with an established Asian Indian wholesaler gave Johnny Francisco the break he needed for "direct blocking" with Japan Airlines and China Airlines.
Johnny ventured into the corporate market in the 1980's. "There were two of us who got the Pacific Bell contract. From this experience, I realized that there was a glass ceiling for minority-owned businesses. In fact, most minority-managed or owned travel agencies were really owned by big corporations. I decided to concentrate on the Filipino market."
In 1996, the forward-thinking entrepreneur analyzed the technological trends affecting the business of travel. Johnny reveals, "My edge is my basic knowledge of the industry — from ticketing to restrictions. I'm one of the few who understands the business in relation to the market. For instance, after 9-11, there were zero commissions since travelers could book their domestic tickets directly with the airlines. To counteract the loss in commissions, the airlines decided to assign a few agents to handle their international ticket sales. Travelfast International consolidates for 10 airlines to Asia with the ability to offer cheaper airfares versus the airlines' published rates. I would like to think that Travelfast's credibility and financial stability were deciding factors for these carriers."
Johnny Francisco's foresight about the emergence of internet airfares as the industry's premier sales and promotions vehicle helped him develop Travelfast International's 21st century business model which included "easy name and number recall" and branding for the toll-free telephone numbers and retail websites selling wholesale consolidator tickets, the opening of branch offices and retail kiosks from Los Angeles to Las Vegas, and a Hongkong office. "We are the only US-based consolidator that has a fully-owned corporation in the Philippines and a 24-hour call center staffed with trained travel consultants. Since the previous business owner retained the Travelfast International business name in the Philippines, we chose the name Mango Tours for our ancillary and overseas operations," Francisco explains.
The Travelfast International and Mango Tours infrastructure and operations, linked by telephone and the internet, are handled by approximately 80 employees. At any given time, Johnny Francisco knows how many people are logged into their computer network. He discloses, "We field an average of 2,000 telephone calls a day plus handle the activity in the websites that provide online bookings: MangoTours.com, FlyToManila.com, FlyToCebu.com, IFlyPAL.com, and FlyToAsia.com. We also saw a need to bus and house our customers so we started offering value-priced tour packages to the Philippines."
Since online booking also means electronic tickets, Francisco urges travelers to obtain their internet airfares from online booking engines that are supported by established consolidators. "When you receive your confirmation number after your online booking, we direct you to a website where you can check your reservation. You can also call the airline to confirm your flight," Johnny points out.
When asked what advice he has for the Filipino immigrant who wants a career in the "Wild, Wild West" world of entrepreneurship in the United States, Johnny Francisco thoughtfully enumerates his life lessons: "Be patient. Wait for your time. Don't do everything overnight. Wait for the right moment and opportunity. Find your niche — where the glass ceiling doesn't exist. You don't have to be a jack-of-all-trades. Always deliver your promises. And, just remember that we're the most affluent among the ethnic groups in the United States."
With a twinkle in his eyes and a satisfied smile, Johnny terminates his reflective mood. "We haven't reached 50% of our objectives yet. This is only the beginning," Johnny Francisco adds.
Lorna Lardizabal Dietz, a Filipino community publicist, writes profiles about people, places, and events. She is based in San Francisco, California.