August 6, 2013
Nowadays, when new friends ask me how old I am (I have gotten over the "that is such a rude question!" paradigm), I just say, "I'm 37!" However, during the year I turned 40 years old — which was a few years back, when email was relatively just beginning to be very popular and the fax machine was almost on its way out — I wrote this essay.
Writing about my dream house was very therapeutic. I was a happily-married woman who worked 12-hour days, Tuesdays to Saturdays, at Brook Furniture Rental, then located at 700 Van Ness Avenue in San Francisco, California. My office was this huge (maybe 15,000 square feet) beautiful showroom around the corner from the California Culinary Academy. That was my professional life for seven years as an in-house furniture leasing and relocation information specialist.
Today, I read this essay again, 1-1/2 decades after I first wrote it. There have been so many changes, twists and turns. I've gone through five deaths in my immediate family. My husband has just passed away. I am a widow. "Widow" hasn't sunk in yet. I grieve — yet I am moving forward, onward to more amazing adventures AND only God knows what they will be.
It will take me a little time to write something personal in my blog — not all the community and business advocacies I am passionate about. BUT I owe it to my nieces and nephews who will some day read this entry. I owe it to them to encourage them to dream… and dream with their heart.
This visual journey in my mind to my dream house still resonates with the same feelings I felt the year I turned 40 years old. Enjoy this journey to my heart!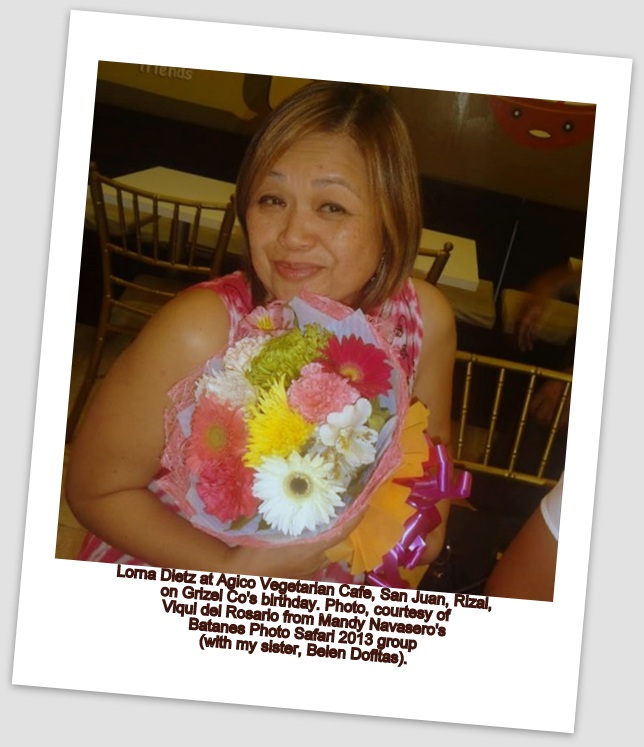 February 27, 2007
Today, I was doing some house-cleaning when I discovered a gift that I had given myself just before I had turned 40 years old. I had written about my dream house. Some day, I'll manifest my [tag]dream home[/tag] — and more… It was fascinating to read about how I felt during this period of my life. Anyway, I hope that my nieces and nephews take the time to dream… because if we don't dream, we don't manifest our truth!

* * *
A DREAM HOUSE
Forty. Another new decade, another set of expectations and dreams waiting to be fulfilled. Next month, I will be forty years old. And I've never been happier in my life.
Why? Compare Lorna to the construction of a home. Blueprints were drawn as she evolved from childhood to adulthood. A concrete foundation of mores and values to help her weather life's more challenging moments had slowly strengthened, tempered by beams of hope and promise. Granite, hewn from quarries that are almost extinct, is the stone that walls are made of to contain the elements of both positive and negative energies in place. A magical, sturdy roof not only contains the intelligence and emotions of experiences and logical thinking but also serves as the primary receptor of sunlight and rain that constantly aim to remind the house that there are "reality checks" in life. The home's exterior reminds one of a sun-kissed Mediterranean villa with fragrant jasmine, red bougainvillea, and sampaguita blossoms creating a heady and volatile perfume of attraction. There are windows to look out of and see other people's lives walk by. A set of double doors, painted a deep burgundy red, is wide open, to allow the fresh scents of innocence into the home. This door remains open, welcome to people who happen to be in the vicinity. A back door is a convenient means of escape when she doesn't want others to see beyond what she wants them to see.
The rooms are, in the most part, fairly functional and spartan.
The most prominent room in the house is the living room. There is a definite essence of rebellion and artistry in this room. A chaise lounge, resplendent in burgundy red, is the quintessential aura of radiant sensuality. Hand-beaded cushions, dancing in bright geometric patterns, are casually tossed on the shiny parquet floor in front of the chaise lounge. Here, Lorna delights her guests with surprises. She wears a t-shirt and shorts, looking like the "down-to-earth" person sprawled on the chaise lounge. A fresco serves as the backdrop behind her. The theme is the sun spreading its kiss of life on the verdant green meadow of a West Midlands countryside, alive with brilliant yellow and violet wildflowers. This scene evokes memories of a coach ride in England in 1984, wherein she slipped into blissful jet-lagged sleep after gazing at the breathtaking beauty outside the coach's scenic windows. A huge area rug is spread out in front of the chaise lounge, in emerald green, edged in black. The glass-topped square cocktail table has a delicate base of marbleized green wrought iron patterned after an ankh. Man and woman joined. A collection of wood-sculpted 19th century "santos" (icons of saints) are quite at home beside the gigantic mint green cathedral-glass bowl of pine-scented potpourri. Evergreen scents subtly influence the occupants to a more relaxed state of mind. The same ankh pattern is repeated in the small round end tables that are scattered in the living room's several conversation nooks. What kind of chairs does her visitors sit on? Emerald green wing chairs that double as recliners. Lorna likes her guests to have the propriety of tradition yet have the flexibility of feeling quite at home. No lamps on the end tables. Why? So that food, drink, and books can freely occupy the tables. Recessed overhead lighting share the intimacy with the skylight. A remote-controlled button increases the intensity of light when reading demands it. There is no television set allowed in the living room. Lorna is very addicted to the fantasies of television that she consciously bans it in this great room where she interacts with life.
The formal dining area is not quite that formal after all. A washed pine table, meant to seat twelve persons, gleams in wholesome wishes of home-style meals to come. The chairs, with arms, are burgundy-cushioned Windsor chairs. An ankh-patterned iron chandelier with candles gently hovers in the ceiling. Tapered, slim, white candles are delicately perched on pine boughs in the center of the table. A simple centerpiece that acts as the perfect counterpoint to the view from three sides of the dining room. For these three sides are floor-to-ceiling tinted glass walls that offer such a breathtaking view of the Pacific Ocean's horizon. The fourth wall contains two doors. One to the living room and one to the kitchen.
What is inside this kitchen? Lorna's pride and joy. Her varied work passions. There is a washed pine counter, coated in nine coats of polypropyphylene, that doubles as a breakfast area and a banquet preparation area that one can't help being drawn to once you enter her other haven. This is where a small 13-inch television set sits, the better to see "The Today" show as she savors her morning cup of coffee. There are four parts to this huge kitchen. There is the stove island, patterned after a Tuscan-style kitchen, gleaming with copper pots, pans and utensils precariously hanging above the iron stove. Then the bakery, a gleaming white contrast in the latest technological devices to make baking more of an efficient exercise in science. You see the pantry doors, divided into cold storage and staples. Inside, you admire the vast inventory of organized ingredients, carefully labelled and categorized with bin cards. The last area is a door that doesn't lead to a wine cellar but to her private office that houses her library of cookbooks, research materials, and marketing tools. This is where she spends her time writing, researching, and modifying her ideas as she looks out of the tinted glass window. An executive desk in superior-quality pine laminate dominates this library. Why laminated? Why not real wood? Because she is practical. The computer paraphernalia can scratch a real wood desk. Her coffee cup would leave rings on real wood. A phone (cum fax machine) sits delicately on one side of her desk. This is her life-line to the world outside her home. Lorna racks up mileage points by using AT&T for her expensive, chatty phone calls to the Philippines. Her family in the Philippines relies on her magical bag of tricks when innovations are needed in streamlining a production process, expanding on marketing aspects, or creating new food ideas. But she rules best as the family's mediator and adviser, careful to balance her "oldest in the family" role with benevolence. The kitchen is the heart of Lorna. The living room and dining room serve as the mind that consciously interacts with the world.
There is only one bedroom — Lorna's. Though guests may come and go, a separate guest house beside her home ensures her privacy. For as open as she is with people, the bedroom shields her soul from intruders. The entrance is always locked. Once inside, she keeps the door locked. Living in the Philippines for almost thirty years taught her to trust locked doors, especially when a crafty would-be burglar managed to enter her home one night many years ago and engaged her burly cousin in a tae-kwan-do match. A second incident occurred in 1986 at the Visitation Valley home where she had rented a room. This time, the thief stole her Filipino video tapes. That is why Lorna still enjoys martial arts films for its discipline and poetry in action. Jean-Claude Van Damme, during his B-movie days, was Lorna's martial arts hero. Anyway, when you, lucky visitor, enter her bedroom, you notice that the theme is definitely Japanese with a marine life's attitude. Tatami mats welcome your naked feet. This room has a mahogany-tinted floor while the walls are wall-papered in spray-painted antique gold Philippine "sinamay" fabric. The sinamay gives a golden glow to the bedroom. A stark white shoji screen shields the king-size futon that serves as her bed. A black-lacquered "hope chest," inlaid with tiny gold engravings of dolphins (her favorite mammals aside from homo sapiens) sits in front of the shoji screen, making it the first item a person notices upon entering the bedroom. By the left side of Lorna's bed, a 6-foot emerald green lucite sculpture of two semi-entwined dolphins rests beside her black-lacquered vanity table and burgundy-cushioned iron-based chair. The oval mirror above the vanity table is Venetian-inspired, with tones of blackened iron, appliqued with filigrees of bronze dolphins. The wall to your right, directly opposite the vanity area, hides an almost invisible door to the bathroom and walk-in closet. You turn around to look at the doorway again. This time, you notice that an exotic Vanda orchid in an antique gold round vase sits on top of a tall end table, the base wrought in an iron shape of a dolphin's head. You peek behind the shoji screen. The comforter carelessly strewn across the futon is rumpled with sleep, its aquamarine patterns of sea life forming a three-dimensional vision amidst the black background. Lorna believes that a bed should be slept in, not made. There are emerald green pillows, about five of them, that are grouped at the center of the bed, by the wall. Three thick volumes of uniformly black-colored books, containing the greatest works of the world's most prolific writers, serve as a pseudo nightstand on one side of her bed. The other side of the bed contains a low black-painted bookcase that also serves as a phone and alarm clock stand. Reading light comes from wall sconces, marbleized aquamarine half-circles of light. You are surprised to see that there aren't any paintings that line the walls. As you can see, the soul of Lorna relies on the calm influence of marine life. A typical Piscean.
The bed. Every now and then, her husband touches her soul. The passion that kindled love to a stable flame still fans gentle heat. She loves him without any reserve. The bed is a firm futon to ease the daily problems of life. The bed, the hothouse of passions to come true to life. For in this bed, some of Lorna's dreams become realities, even if it takes years. She is contented. Lorna looks forward to harnessing her creative energy into works of life that reach out to people who need them most. She understands her limitations. She knows procrastination is her enemy. But Lorna knows that the love her husband, her friends, and her family give her will unleash her passions to greater, bigger than life, proportions.
Turning forty isn't so bad after all. I'm so happy!