Me and my big mouth! The persevering and tenacious Elton Lugay, one of the co-founders of the Ginoong Pilipinas-USA pageant/competition, and I were having an intense discussion about the portrayal of young Filipino male pageant candidates as men who dare to assert their empowerment goals in a pop culture event. Elton was very excited about their first Los Angeles event (after four years in the San Francisco Bay Area and one year in New York City) for July 20, 2008 at the Radisson Hotel Los Angeles Midtown at the University of Southern California, located at 3540 South Figueroa St, Los Angeles CA 90007. He explained to me that California State Senator Leland Yee's advocacy, the White Ribbon Campaign, a worldwide campaign of men working to end men's violence against women, is one of the primary beneficiaries of the event's proceeds.
"Make sure the emcees are respectful to these young men, Elton! It takes a lot of guts for them to be there on the stage," I reminded him. "I understand that community service involvement is one of your criteria for these contestants. How will you make sure that the interview portion of the pageant will be handled sensitively?"
"Because you're going to host the interview portion of the program," Elton declared.
"Moi? I write profiles, Elton," I protested.
"But you interview people, right? What's the difference?" Elton asked, determined not to get a "No!" for an answer.
"OK, this is my personal support for you, Elton, as a Filipina who wants to end violence against women and girls," I agreed, not sure why he thought I was an ideal pageant interviewer.
If you're in the Los Angeles area on Sunday, July 20, 2008, please come and celebrate with us as Filipino men "break stereotypes" at the 6th Annual Ginoong Pilipinas-USA [Mister Philippines USA] competition.
6th Ginoong Pilipinas USA
SUNDAY, JULY 20 @ 6 PM
GRAND BALLROOM
Radisson Hotel Los Angeles Midtown at USC
3540 South Figueroa Street, Los Angeles CA 90007
Telephone: (213) 748-4141 Fax: (213) 746-3255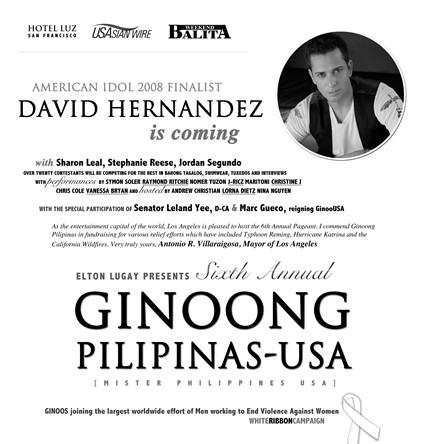 Direct from Elton:
FOR IMMEDIATE RELEASE
John Baguio (917) 553-4750
– – –
Sharon Leal and Andrew Christian headline 6th Ginoong Pilipinas USA as America's search for the Best Filipino Male goes to Los Angeles
The now New York-based Ginoong Pilipinas USA is holding its 6th cultural pageant cum fundraiser on Sunday, July 20, 2008 at 6 p.m. at the Grand Ballroom of the Radisson Hotel Los Angeles Midtown at the University of Southern California, located at 3540 South Figueroa St, Los Angeles CA 90007
Known for its humanitarian efforts, Ginoong Pilipinas USA will share portions of the event's proceeds this year to White Ribbon Campaign, a coalition of Men Working to End Violence Against Women. Calif. Senator Leland Yee will be on-hand to help promote the Campaign.
Los Angeles' celebrity fashion designer Andrew Christian will co-host the program and Hollywood Fil-Am singer-actress Sharon Leal, (Boston Public, Dreamgirls, Why Did I Get Married) will be the special guest
performer along with Broadway Star Stephanie Reese and American Idol Finalist Jordan Segundo, 2008 American Idol Finalist David Hernandez, and many local performers rendering their time and talents in celebrating Filipino male youth empowerment.
Over 20 contestants from around the nation are competing for the title and this year's winner will receive $1,000 cash, roundtrip tickets to the Philippines, a custom-made trophy and sash and the rare opportunity of representing the Filipino community in various civic and cultural events around the nation.
This year's sponsors include San Francisco's Hotel Luz; LA's Patron of the Arts, Bong Prada Lim; Wilshire Travel Center; O Bar Restaurant, Gregory's Tuxedos; Nostalgia, The Barong Tagalog Shoppe; Swimwear by Andrew Christian; Pnoy Apparel; Fashion Designer Lou Razon; and Western Union.
Media partners include Balitang America ABS-CBN The Filipino Channel; GMA Pinoy TV; LA's Midweek and Weekend Balita; The Philippine News; Manila Mail; Manila Bulletin; Pinoy Today; NY's Filipino Express; Filipino Insider; AsianWeek; Philippine Fiesta; Philippine Headlines; MyGringos.com; Bisaya Bulletin; Hollywood Flip; NY's Carousel Pinoy; and PinoyGig.com.
Tickets to the event are at $20 and are available online via BrownPaperTickets.com or by calling Toll Free (800) 868-3006.
For more information, visit ginoousa.net, email [email protected] or call (917) 553-4750 in New York; (415) 424-3998, San Francisco; and (818) 909-2525, Los Angeles.