Last June 1, 2017, my sister, Noemi L. Dado, and I were invited to a walk-through of Runway Manila and NAIAx. The dinner invitation was for 8:00 pm. Our Runway Manila field trip started sometime after 9:00 pm. Afterwards, we stayed at the lobby of Maxims Hotel, Resorts World Manila, until we were off to our next field trip, the NAIAx inauguration somewhere on the expressway.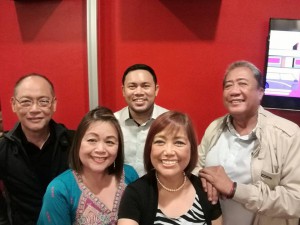 RUNWAY MANILA: FASTER TRAVEL TIME MADE SIMPLE
"The Pedestrian Bridge between Newport City and NAIA Terminal 3″
When the project partners of a 220-meter (722-feet) air-conditioned, elevated walking bridge — that connects the Ninoy Aquino International Airport's (NAIA) Terminal 3 and Newport City, its neighboring 25-hectare (62-acre) residential and commercial area — welcomed their first pedestrians on April 21, 2017, they answered every airport traveller's frustration. Commute time between NAIA T-3 and Newport City was notoriously slow for incoming and outgoing private and public transportation, averaging an hour each way. The enclosed bridge is roughly a 3-minute to 10-minute convenient and secure walk in each direction. Rising 65 meters (213 feet) above Andrews Avenue and the new NAIA expressway (a.k.a. NAIAx, pronounced neigh-ah), moving walkways and elevators are available for the public's convenience 24/7 — in consideration of the elderly and differently-abled. The bridge can accommodate 2,000 persons at any given time. Entrance is free in each direction.
Domestic and international passengers as well as daily commuters can realistically lessen dependence on motor vehicles that travel the short distance between the two tourist hotspots. Through Runway Manila, travelIers can use Newport City as a convenient jump-off point to reach other parts of the metropolis. Newport City is accessible to City Link buses and other forms of public transport. Information about free shuttle services in Newport City can be found at http://directionsonweb.blogspot.com/2015/09/Newport-City-Free-Shuttle.html.
Alliance Global Group, Inc. (AGI) funded the project to the cost of PH1.5 billion as part of its commitment to work with the Philippine government, represented by the Department of Public Works and Highways (DPWH) and the Department of Transportation (DOTr), in promoting Philippine tourism by providing tourists and visitors with a convenient and seamless travel experience in the country. As the project proponent, AGI manages and maintains Runway Manila.
VIDEO SLIDE SHOW: https://video214.com/play/QkXysS9tKaPkOfqaGzaqlg/s/dark
SHORTENED URL: http://tinyurl.com/runwaymanila
TO GET TO NAIA, TERMINAL 3: Runway Manila is located between Belmont Hotel Manila and Resorts World Manila, close to McDonald's on the Belmont Hotel side. After passing through the security gates, with personal belongings going through the required X-ray machines, take the elevator to the fifth floor. Walk on the bridge. After you pass the LED bulletin boards, proceed toward the right section of the bridge. Use the moving walkways for convenience. Turn left. At the end of the bridge, you will see a "Welcome to Runway Manila" sign. Check in your personal belongings at another X-ray machine while you go through the security gates. Proceed to the first corridor just as you make your exit. You will walk by some restaurants and food stalls. Look for the KFC outlet as your point of reference and turn right at the hallway. Proceed to the left side of a wider hallway where a rice-noodles express restaurant is located. Keep moving toward the entrance of the departure area at the ground floor.