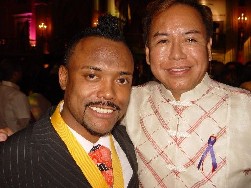 One of the most remarkable human beings I have ever met in my lifetime — and there are more remarkable ones waiting for me to meet! — is the Philippines-United States' compleat performer and entertainer, Bernardo Bernardo. We have a way of finding each other once a year, or even once every couple of years, to check in — and exchange personal and professional notes.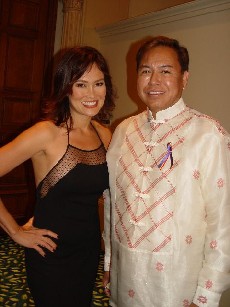 One day, a couple of years ago, I was crying my heart out. Bernardo wanted to comfort me with a prayer so he sent me one in an e-mail. I lovingly posted this prayer on my refrigerator, complete with a "photoshopped" picture of both of us (with radiant smiles, of course!). Bernardo's words keep me grounded, giving me such reassurance that "I am perfect and complete as I am".
Bernardo might have composed this prayer at his most meditative state of mind, sending it to me as fast as he could, because he misplaced his personal copy.
Well, Bernardo, I finally got to delete this to-do item in my checklist. I am sending your prayer of abundance out into the Universe. May you find this wonderful prayer (that you composed) as a blessing wherever your travels take you!
Godspeed, my friend!
P.S. You can find out what Bernardo Bernardo is doing nowadays by visiting his website: BernardoBernardo.com
~0~0~
Bernardo's Prayer of Abundance
I pray for greater receptivity on our part to accept GOD'S blessings which are ever-flowing, constantly pouring upon us.
Let us open up our heart and our mind, and receive!
Claim it, for it is ours, by Divine Right — all the good, beauty, truth, and abundance in the Universe.
Ours, for we are HIS children.
Receiving, that is Enlightenment!