Wow! As a Filipina creative writer, I don't get to appreciate my own work until many, many years later. A serendipitous meeting with Florence Mendoza in Los Angeles — through the kind introduction of Marivic Anonuevo of Ayala Land Inc. during our first-ever Ayala Land roadshow in 1999 — resulted in a profound connection with Anthony Cruz Legarda, Ariketeknik's primary visionary and fashion designer. "Arkiteknik, the new cultural landscape." The staccato-sounding name was created by Cookie Hiponia, a celebrated Filipina American poet.
In the year 2000, I accepted a creative writing assignment for Arkiteknik's fashion theatre production at the Yerba Buena Center for the Arts. This was a project spearheaded by Bayanihan Movement, Inc. Writing was no easy task. I didn't know anything about the history of Filipinos in America. Undaunted, I researched for books and internet articles that educated me about the Filipino Americans' historical milestones in the United States.
It is now 2007 — and the Arkiteknik saga continues. Anthony Cruz Legarda is expected back in San Francisco this September, complete with a new collection after a working trip to the Philippines, just in time for the New York Fashion Week. We can wait for Anthony to make his announcements when he gets back into town, won't we?
I was going through my computer files today when I unearthed a "rejected" short story that I had written about "Arkiteknik, The Vision," dated May 25, 2002. Rejected — because Anthony wanted a more traditional type of introduction for the coffee table book Bayanihan Movement, Inc. was producing for this project. When I read this visualization-type story that I wrote about a couple of Arkitekniks in the year 2012, it occurred to me that what we all dreamed about many years ago is fast manifesting into reality.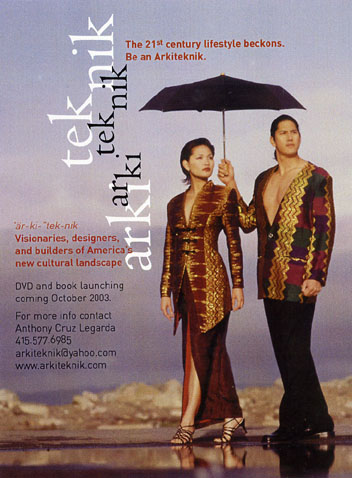 Like many Filipino advocacy groups that have been birthed through the years, this art and lifestyle movement has seen its volunteers leave indelible marks of their legacy for future generations of Arkitekniks. Since Arkiteknik is as mainstream as apple pie and the Star-Spangled Banner, this new cultural landscape is definitely here to stay — and it will continue to evolve into a global presence.
The Arkiteknik coffee table book and its accompanying DVD is sold at the Filipinas Magazine catalog. Look for Books, then "Filipiniana."
Read my story, Arkiteknik.
Arkiteknik – The Reality
by Lorna Lardizabal Dietz
San Francisco, California
October 21, 2012
Today, we woke up to a typical Indian Summer morning. This was going to be no ordinary day. As Chris and I quickly donned our morning exercise gear for a short walk to Washington Square where we could join our tai chi friends in the North Beach grounds that venerated an Asian tradition amidst the coffee-toting human traffic, our thoughts automatically veered to another memorable day 12 years ago.
On October 21, 2000, Chris invited me for a first-ever date with him. We were classmates taking art classes at a nearby prestigious college that stood close to the daily clanging of San Francisco's creaky cable cars. Wielding paintbrushes as an antidote to "desk stress" normally associated with college studies, we embraced our intense attraction for each other with conversations focused on techni-colored dreams about promoting love, wisdom, and compassion through our careers. In my mind, my vision was very clear. I was going to be an Asian American woman who owned a travel agency that promoted eco-tourism for the mind, body, and spirit. Luring disenchanted Financial District and hi-tech professionals in Corporate America to take a stress-free vacation in my island paradises around the world also meant that I would need a dedicated heart and a disciplined mind to make this happen. On the other hand, Chris was determined to finance his law studies by selling his unique murals that celebrated ethnic fusion art with a historical perspective.
We would make a powerful team that intuitively knew how to talk and walk our dreams to real dimensions.
Except that we had never gone out as a couple on a proper old-fashioned date — complete with imagined bells and whistles, the crystal songs of champagne, floral wisps of autumn freesias, and promises of a future together.
A phone call that early Saturday morning in October was a blessing from unknown forces that answered my prayers. "Marie, I would be honored if you could come with me to a very special event at the Yerba Buena Center for the Arts tonight. I apologize for the short notice but I didn't know about this until today. One of the organizers just called to tell me that a generous benefactor was donating his tickets to art students," Chris said. Assuming silence meant I was interested, he continued. "The event is called 'Arkiteknik,' or the celebration of America's new cultural landscape using the format of a fashion theater production that fuses the best elements of our San Francisco Bay Area cultural heritage through fashion, visual art, music, and dance. It's a very ambitious project headed by a Filipino American visionary and futurist, Anthony Cruz Legarda."
"And what am I wearing tonight?" I asked, pouting as I mentally assessed my black-on-black wardrobe that had no cultural identities pinned on it.
"I already took care of that. I'll be at your doorstep by 4 o'clock today," Chris replied, knowing exactly how to dangle an imaginary carrot in front of my face.
That night, Chris and I realized that there were people just like us — seeking enlightenment. Different paths lead to the same world of "Arkiteknik: The New Cultural Landscape." While we held hands as we watched an art movement make its debut in the city that celebrated East-West traditions and revered its Pacific Rim influences, we could feel the audience spontaneously celebrating the long overdue creative insights into the future.
"Chris, this art movement stands out from the others," I clutched his arm with sudden clarity. "Arkiteknik is a legacy for the future. It honors our respect for the distinct influences of cultures that make San Francisco an international city of originality and fusion. It doesn't talk about the pain of being different. I'm so glad that Arkiteknik sends a message about moving forward to an enlightened future of freedom — the openness, the spaciousness of our cultural heritage. Arkiteknik is authentic in its sophisticated execution of ideas that embrace a common ground through an art movement."
That was 12 years ago.
Chris and I have river-rafted through our histories of triumph over personal challenges. We decided that we would get married in 2010, and we did. I had made the right choices about promoting eco-tourism because my business now markets over 200 quiet, little known islands and atolls to people who seek "inner simplicity." Chris works as an attorney in the Excelsior District, having consciously made a decision years ago that a multi-lingual law firm was where he wanted to be. He still maintains an art studio in Daly City. The murals Chris paints are thought-provoking landmarks in various corporate offices around North America. Thus, I think my husband does a wonderful job of enhancing cross-cultural fusion through art.
While Chris and I perused our outfits for tonight's 12th Arkiteknik celebration, the merits of wearing hand-woven, naturally-dyed fabrics from the Philippines was a natural conversation starter.
"Marie, imagine how the first weavers observed birds build their nests, how they used an animal's bones and tendons for needles, and found certain types of sturdy grass for thread. Look at what we're going to wear tonight," Chris spoke as he traced the golden zigzagged patterns of his jacket.
I replied, "We've certainly come a long way. Who knew that the painstaking skill of handweaving would be passed on, undisturbed through the centuries, from the mountains and aeries of the Philippines and end up in my daily business attire in San Francisco? We're wearing the love and trust of our ancestors, Chris."
Arkiteknik had started as an idea that developed into a popular flavor. Today, Chris and I live a lifestyle in a more technologically-efficient world that gives us more time to celebrate life.
"Do you think the City and County of San Francisco will give another proclamation stating that October 21, 2012 is Arkiteknik Day? They've been doing it for the past 11 years," I asked.
"The Proclamation will be there, Marie. Until a time comes when every city in North America can proclaim an Arkiteknik Day each year, we'll just have to keep our good example of embracing other cultures and ideas that exemplifies our city's unique heritage, won't we?" Chris always knows what to say.
We feel victorious in our quest for enlightenment as Arkitekniks. Yes, we are Arkitekniks, an accepted word in our idiomatic dictionary that plays like a staccato beat in America's evolving cultural landscape.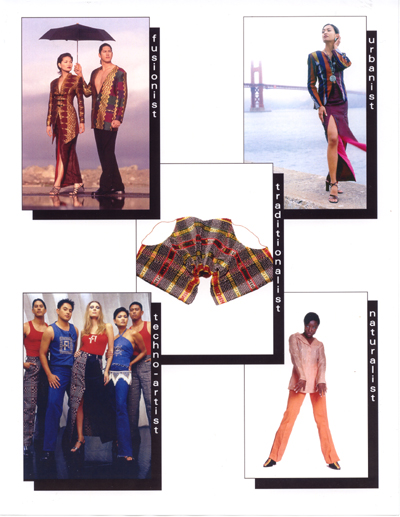 P.S. In December of 2004, I completed my creative writing assignment for the coffee table book. The front cover's biography of Anthony Cruz Legarda, the introduction, and the ghost-written letter from the Philippine Department of Tourism are published testaments of my own Arkiteknik journey.
Anthony Cruz Legarda – Complete Profile 2009