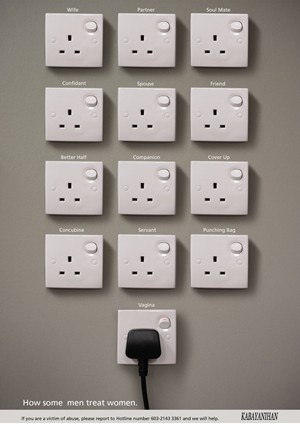 AdOfDaMonth.com
– For you to appreciate the ad, "How Some Men Treat Women," please look at the full-size ad and
click here
. This provocative ad forces us to think about what we can do to end domestic violence worldwide. This is a plug for KABAYANIHAN, with a call to action: "If you are a victim of abuse, please report to hotline number 603-2143 3361 and we will help."
AGENCY: DDB International Malaysia
EXECUTIVE CREATIVE DIRECTOR: Roger Pe
ART DIRECTOR: Kai Ming Wong
COPYWRITER: Roger Pe
TRAFFIC: Victoria Lim
PHOTOGRAPHER: Kai Ming Wong
PRODUCER: Andy Ng
Ever since my stint as Executive Coordinator of the highly-successful Third Global Filipino Networking Convention, which was held at the Waterfront Hotel in Cebu City, Philippines on January 20 to January 22, 2005, I've had the good fortune of staying in touch with some of our most brilliant creatives in the Asian advertising industry. One particular creative is Roger Pe, who used to work at DDB International Philippines. Roger masterminded the creative aspects of the Third Global's TV broadcast ads that were aired at the GMA Network, one of our media sponsors for the event.
Currently, Roger is based at DDB International Malaysia. He is someone whose "out of the box" creative concepts has earned his team some well-deserved awards and recognitions in the competitive advertising industry. In my marketing and public relations world, I consider DDB Worldwide as one of the most respected and prominent cutting-edge global creative advertising agencies.
If you are a "trained ad-monkey," this AdOfDaMonth.com is the network for you to bond and check out the best ad of the month. And since Roger is THAT talented, don't be surprised if his team's work gets the "Best Ad of the Month" vote often.
Mabuhay Ang Pilipino!