March 12, 2007 – I am proud to announce to the world that my managing editor of Filipinas Magazine, Gemma Nemenzo, is leaving for Makati City, Philippines, tonight, on a whirlwind trip. Gemma's magic date is March 17, 2007 for a book launching — her book.
I have always admired Gemma for her writing skills and insightful perspectives. There were times when her essays caught me unaware — and had me crying for no reason at all or smiling in amusement. Did Gemma's prose appeal to every immigrant who mirrored her experiences? Feeling the way she does, about being a "heart in two places?"
After we had a meeting at the Filipinas Magazine last week, I hurriedly informed some of my Philippines-based friends to meet Gemma this Saturday. I'm posting this announcement here as well.
Here are the details:
Anvil Publishing, Inc. and Segafredo
request the pleasure of your company at the launch of
Heart in Two Places
An Immigrant's Journey
by
Gemma Nemenzo
on
March 17, 2007
3 – 6 pm
Segafredo Zanetti Espresso Bar
Greenbelt 2 1st level
Makati City
RSVP
Lina Gutierrez 637-5141
Joyce Bersales 747-1622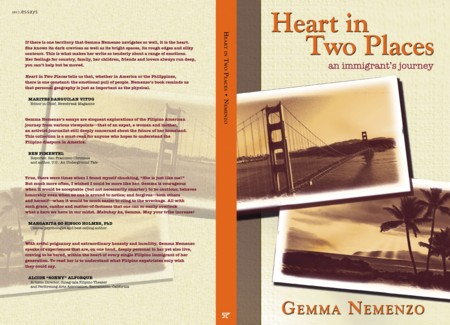 ~0~0~
WHAT THEY SAY ABOUT "HEART IN TWO PLACES"
If there is one territory that Gemma Nemenzo navigates so well, it is the heart. She knows its dark crevices as well as its bright spaces, its rough edges and silky contours. This is what makes her write so tenderly about a range of emotions. Her feelings for country, family, her children, friends and lovers always run deep, you can't help but be moved.
Heart in Two Places tells us that, whether in America or the Philippines, there is one constant: the emotional pull of people. Nemenzo's book reminds us that personal geography is just as important as the physical.
Marites Danguilan Vitug
Editor in Chief
Newsbreak Magazine
*
Gemma Nemenzo's essays are eloquent explorations of the Filipino American journey from various viewpoints––that of an expat, a woman and mother, an activist-journalist still deeply concerned about the future of her homeland. This collection is a must-read for anyone who hopes to understand the Filipino diaspora in America.
BEN PIMENTEL
Reporter, San Francisco Chronicle
and author, U.G., An Underground Tale: The Journey of Edgar Jopson and the First Quarter Storm Generation
*
True to her name, Gemma (Nemenzo) proves with Heart in Two Places that she is a brilliant writer who can move you to tears as easily as she can move you to laughter with her thought-provoking and insightful essays. Here, the witty essayist proffers a writer's harvest that sparkles with disarming humor (delightfully dusted with Pinoy pixie)[avh1] and, to great effect, cuts with hard-edged passion and intelligence.
BERNARDO BERNARDO
Fil-Am Actor/Director
*
What a delightful collection! Indeed, Gemma Nemenzo writes from two places––from then and now, from laughter and tragedy, and always from a generous heart and unfaltering wisdom.
Cristina DC Pastor
Author, Scratch the News: Filipino Americans in Our Midst
and Managing Editor, Philippine News, New Jersey
*
With artful poignancy and extraordinary honesty and humility, Gemma Nemenzo speaks of experiences that are, on one hand, deeply personal to her yet also live, craving to be bared, within the heart of every single Filipino immigrant of her generation. To read her is to understand what Filipino expatriates only wish they could say.
Alcide "Sonny" Alforque
Artistic Director, Sinag-tala Filipino Theater and Performing Arts Association Sacramento, California
*
The courage that saw Gemma Nemenzo end her marriage, pull up stakes and migrate to American with three young children is the same courage that she trains on herself in this book––a pained, sometimes ironic, sometimes amused record of life as she has since lived it.
Here a staunch nationalist turned U.S. citizen, a female born to relationship raising her children alone, a writer turning separation from her roots into literature––proves her examined life to be truly worth living.
Sylvia L. Mayuga
Columnist, Philippine Daily Inquirer
*
Heart In Two Places goes beyond geographic and cultural bilocation. Between the covers of this book are scintillating vignettes of Gemma Nemenzo's experiential PhilAm sojourn.
Ms. Nemenzo's essays are masterfully crafted "sentipieces," much unlike vapid musings that cram less cerebral bookstores. Verbally gifted, she amazes readers with the way her words flow in facile procession: the obvious are precise, while inferences are delicately nuanced. Her versatile pen, as the situation demands, morphs into an incisive scalpel or a blunt bludgeon or, when mortally whimsical, slays nonetheless with the gentle swirl of a scimitar.
Essentially, Heart in Two Places is about the author's PhilAm life journey, punctuated with defining moments and crucial life choices. In the process, she raises philosophical questions that disturb, yet edify. Somehow, one senses that in her heart of hearts, her life choices are unarguably impelled by a living, breathing, sensitive, considerate soul. Then, perhaps, the book should be retitled Heart in Right Places.
REY DE GUZMAN
VP for Corporate Communications
United Laboratories Inc. Philippines
*
True, there were times when I found myself chuckling, "She is just like me!" But much more often, and many more times when I wished I could be more like her. Gemma is courageous when it would be acceptable (but not necessarily smarter) to be cautious; behaves honorably even when no one is around to notice; and forgives––both others and herself––when it would be much easier to cling to the wreckage. All with such grace, candor and matter-of-factness that one can so easily overlook what a hero we have in our midst. Mabuhay ka, Gemma. May your tribe increase!
MARGARITA GO SINGCO HOLMES, PhD
Clinical psychologist and best-selling author
~0~0~
You can write to Gemma Nemenzo at [email protected]. Check out www.FilipinasMag.com as well! And if I haven't been saying enough of this to all of you, please contact me at [email protected] if you would like to subscribe or advertise with us!