"I had the pleasure of getting to know Mae Flores, an up & coming Filipino actress. Her natural beauty and talent came through in her big screen debut."
I found this quote in one of the reviews at the Washington Post for the sci-fi (or syfy) movie, "Atlantis Down." Congratulations, Mae!
The Los Angeles Premiere of "Atlantis Down" will be shown during the Los Angeles Italia Film Festival on February 20th, 2010 at Mann's Chinese Theatre.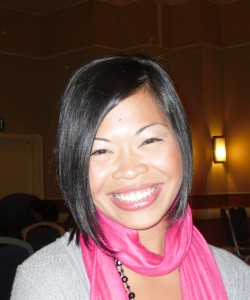 When I took this photo, Mae Flores was running a fever just before the Opening Plenary Session of the E-2010. Mae was our YP (young Pinoy, young Pinay, young Professional) Opening Plenary Speaker. During those few minutes before the conference started, we had some quiet time, getting to know each other. What a refreshing breath of fresh air this Filipina performing artist brought to the conference! I'm not saying anything more because I would prefer that you get to know Mae Flores. She's in Los Angeles, California, a Filipina born in Quezon City, raised in Chicago, adopted by Hampton Roads, and ended up at our NaFFAA Empowerment Conference whose theme of "Building the next generation of Community Advocates in an Intergenerational Environment" evoked a kaleidoscope of insights from this elegant young woman.
For the Red Carpet Premiere of "Atlantis Down,' the movie, I decided to find whatever news was out there about Mae Flores and the movie. Here is my collection. Enjoy it, Mae!