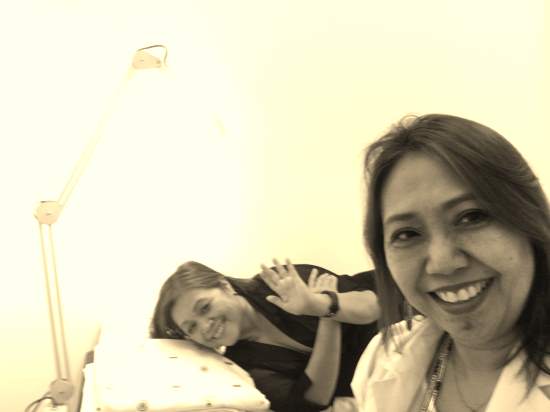 TRAVEL DIARY: March 7, 2016 – No pain, no gain! My dermatologist-sister, Dr. Belen Lardizabal Dofitas, made me "Plastic Woman" by putting cellophane tape over the facial anesthesia applied to areas of my face and neck. The tape was placed so that the anesthesia would be absorbed for an hour before she performed electrosurgery, zapping my many "milia" on my face (those tiny white bumps are cysts made of keratin) and flat warts on my neck. This particular procedure was almost painless, that is, you could smell some minuscule burnt skin, feel some slight needle pricks and heat as she zapped the milia. Afterwards, she placed antibiotic on all the zapped areas and told me not to wash my face and neck until noon tomorrow (24 hours after the procedure). The total waiting time from anesthesia to electrosurgery: Possibly three hours, not including the traffic.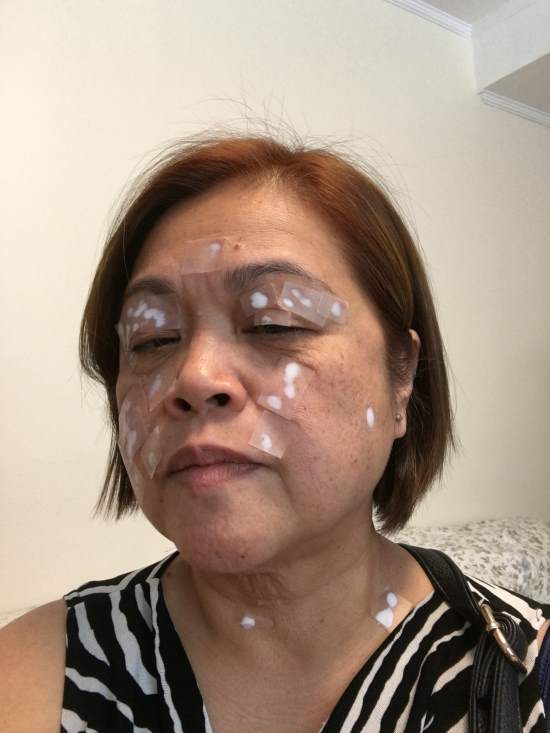 You can see some redness on my face. In a couple of days, I will see some dots (scarring) which will then just fall off. The milia inside those dots will also jut out and fall off. The others will be easy to scrape off during my next facial (just like blackheads and whiteheads). My sister had used a needle on one of the larger and harder milia above my left eye. My gain is that I can now put on my eye make-up without having tiny bumps. The only downside is that I have to keep wearing sunscreen (SPF 50 to SPF 70) forever.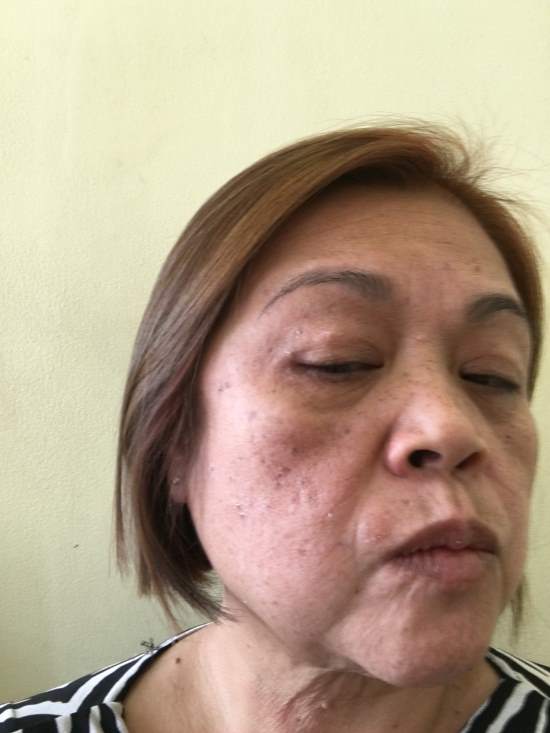 This procedure was done at QualiMed, FMAB Building (Faculty Medical Arts Building) at PGH (Philippine General Hospital). The cost? It is easier to estimate it this way: Zapping up to 10 milia is PH1,000. So, if you have 20 milia, it is PH2,000 (or $42.55, PH47=US$1). It could be less. This is just a good ballpark figure to remember.
I will have more work done during my next trip this October. I need to tighten my chin and my neck so this means saving PH20,000 to PH30,000 ($426-$638.30). Belen would like to use laser on some of my darker freckles so they would look lighter.
Pricing, as always, is subject to change without any notice.
Does anyone want to join me for a skin care medical tourism journey this late October/early November? This is a personal invitation since I am such a believer…
There are many doctors to choose from — depending where you will be staying. Belen has many dermatologists she can recommend us to — especially since most of them are her former students.
There are other clinics such as Clínica Manila (Dr. Hernan Delizo's "baby" and the visionary behind the ONE HEALTH CARD) that can help you. I have experienced the services of Clínica Manila and QualiMed — and I can share with you that medical tourism in the Philippines is such a good experience with value-packed pricing.
I look forward to what Cebu has to offer!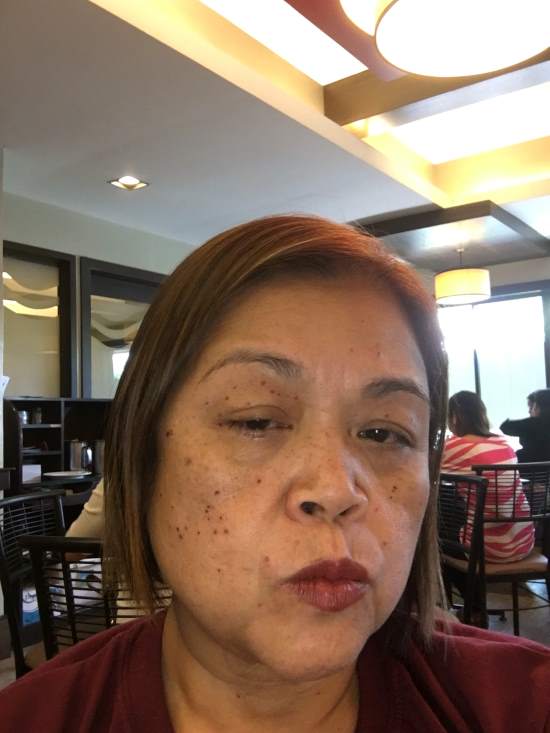 TRAVEL DIARY: March 8, 2016 – One day after the electrosurgery on my face (performed by my dermatologist sister at QualiMed-FMAB at PGH) to zap the tiny milia (the cysts made out of keratin). The scabs will fall off before I leave for the US next week.
You need to know how to walk with confidence. I wasn't even aware that people were staring at me politely. I bet you they couldn't decide if I had chicken pox scars, right? LOL